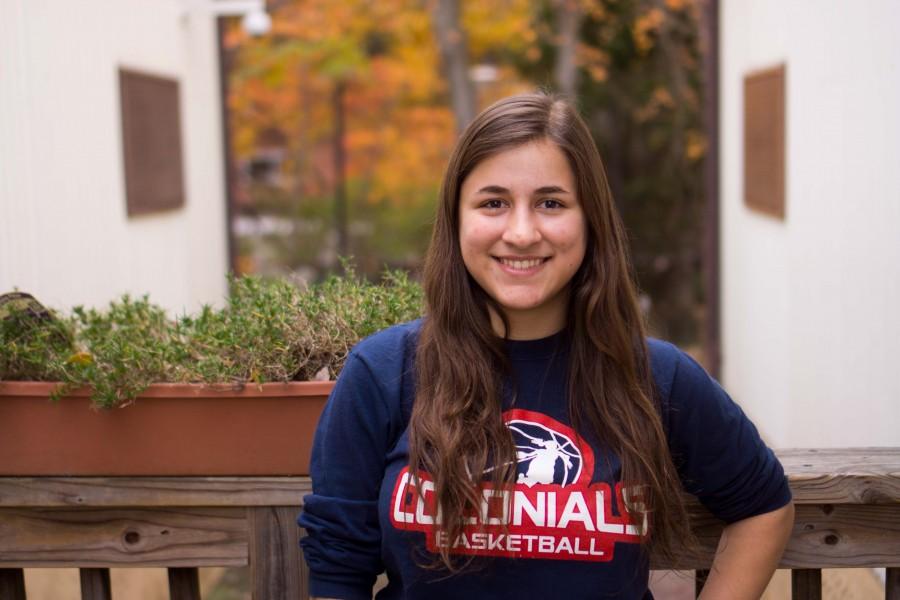 A senior at Jefferson, Stav is in her third year of working on the newspaper staff. As News Editor, she oversees all news articles for both the print and online newspapers, designs the front page of the print newspaper every issue along with the second and third pages and oversees and trains new staffers in news article writing. In the past, Stav has served as Features Editor and Sports Editor.
Stav joined tjTODAY because she has a passion for writing, especially in a way that informs the community or expresses her opinion. She also wanted to participate in the graphic designing process that created each print newspaper.
Outside of journalism, Stav serves as the Editor-in-Chief of Threshold Literary Magazine, a Board Member for the Jefferson Writing Center, a multiple-award-winning member of the Model United Nations team, a coach for a volunteer organization that helps disabled children entitled The Outreach Program for Soccer (TOPSoccer), a member of National Honor Society (NHS), a regular volunteer for TheRandomAct, a two time award winner of Bioengineering Projects for the Future (BPF) and a division one travel soccer player. After high school, Stav would like to pursue a career involving business and law.
http://stavnachum7.pressfolios.com
Stav Nachum, News Editor
Jun 14, 2015

Sheppard's "Bombs Away" delivers with consistently catchy ballads

(Story)

May 24, 2015

Mathematician and economist John Nash dies at 86

(Story)

May 21, 2015

Varsity girls' soccer advances to Capitol Conference Finals

(Story/Media)

May 19, 2015

David Letterman forever changed late night television

(Story)

May 05, 2015

Press release from Karen Garza creates conversation about FCPS budget

(Story)

Apr 19, 2015

Celebrities confront climate change at Earth Day rally

(Story/Media)

Apr 12, 2015

TJMUN hosts annual conference

(Story)

Mar 27, 2015

tjTOMORROW: How to pick the RIGHT college

(Story)

Mar 15, 2015

"Run All Night" provides thrills

(Story)

Feb 27, 2015

"The Dress" controversy is solved once and for all

(Story)

Feb 26, 2015

Why journalism is not a dying field

(Story)

Feb 19, 2015

FCPS should make timelier cancellation announcements

(Story)

Feb 14, 2015

"Fifty Shades of Grey" romanticizes abusive relationships

(Story)

Feb 04, 2015

tjTOMORROW: How to Avoid Senioritis

(Story)

Jan 27, 2015

Fall Out Boy's new album shows band's evolving music style

(Story)

Jan 26, 2015

Upperclassmen give advice on how to cram for midterms

(Story)

Jan 14, 2015

tjTOMORROW: The College Application Process

(Story)

Jan 11, 2015

Varsity basketball beats McLean Highlanders in close game

(Story)

Jan 09, 2015

"The Hobbit: The Battle of the Five Armies" concludes the Middle Earth journey

(Story)

Jan 03, 2015

Top 14 of 2014: Movies

(Story)

Dec 08, 2014

Television shows should not have winter hiatuses

(Story)

Dec 08, 2014

tjDestinations resource opens for public

(Story)

Nov 30, 2014

Humanities hold ribbon-cutting ceremony for staircase

(Story)

Nov 22, 2014

College and Career Center hosts summer program session

(Story/Media)

Nov 10, 2014

Dr. John Sides presents midterm election predictions for global studies students

(Story/Media)

Nov 10, 2014

tjTODAY staff wins big at write-off competitions

(Story/Media)

Oct 25, 2014

tjTOMORROW: University of Michigan

(Story/Media)

Oct 25, 2014

New labs and front walkway open for student use

(Story/Media)

Oct 22, 2014
Oct 20, 2014

tjTOMORROW: University of Miami

(Story)

Oct 15, 2014

Bastille performs at the Patriot Center on "Bad Blood" tour

(Story/Media)

Oct 08, 2014

"Supernatural" season ten leaves fans anxious for more

(Story)

Oct 01, 2014

tjTOMORROW: William and Mary

(Story/Media)

Sep 30, 2014

Junior varsity and varsity field hockey teams suffer another loss

(Story)

Sep 24, 2014

tjTOMORROW: UVA

(Story/Media)

Sep 20, 2014

tjTOMORROW: New York University

(Story/Media)

Sep 20, 2014

tjTOMORROW: Georgia Tech

(Story/Media)

Sep 19, 2014

Homecoming week shouldn't fall on religious holidays

(Story/Media)

Sep 13, 2014

The price of parking passes surpasses their value

(Story)

Aug 31, 2014

Students host barbecue for incoming froshmores

(Story)

Aug 26, 2014

Stav's Summer Book Blog: "The Virgin Suicides" surpasses all expectations

(Story)

Aug 26, 2014

Schedule release leads to social media mayhem

(Story)

Aug 26, 2014

Stav's Summer Book Blog: "Miss Peregrine's Home for Peculiar Children" captures readers right away

(Story)

Aug 25, 2014

Stav's Summer Book Blog: "The Interestings" captures readers from the first page

(Story)

Jul 26, 2014

Ed Sheeran's new album amazes audiences

(Story)

Jul 26, 2014

"Lucy" falls short of expectations

(Story)

Jun 14, 2014

Threshold selects new editorial board

(Story)

Jun 10, 2014

Parade of Lights inspires feelings of summer with album "Golden"

(Story)

Jun 08, 2014

"The Fault in Our Stars" sets out to make you cry

(Story)

May 24, 2014

Cryptography course takes field trip to NSA's museum

(Story)

May 21, 2014

Supernatural season 9 finishes strong

(Story)

May 15, 2014

Students celebrate the end of AP testing

(Story)

May 11, 2014

Students lament the loss of JLC this week

(Story)

May 03, 2014

Threshold literary magazine finishes this year's publication

(Story)

May 03, 2014

Students take May SAT and subject tests

(Story)

Apr 24, 2014

Junior varsity girls' soccer loses to Chantilly

(Story)

Apr 09, 2014

Freshman are introduced to Jefferson at preview night

(Story)

Apr 08, 2014

Jefferson admissions statistics show continuing trend

(Story)

Apr 06, 2014

TJMUN prepares for their upcoming TechMUN conference

(Story)

Apr 06, 2014

Jefferson telelearn day scheduled for April 7

(Story)

Mar 28, 2014

Class of 2015 sponsored AP practice exams cancelled

(Story)

Mar 23, 2014

Jefferson alumnus Meagan Spooner answers questions about her writing career

(Story)

Mar 23, 2014

Threshold staff begins production process

(Story)

Mar 16, 2014

Students participate in TXT U L8R

(Story)

Mar 15, 2014

Latin students participate in Ides of March celebration

(Story)

Mar 15, 2014

Lost and found wastes students' time

(Story)

Mar 08, 2014

Sci-Fi authors visit Jefferson

(Story)

Mar 04, 2014

Girls' lacrosse team tryouts come to a close

(Story)

Mar 02, 2014

Girls soccer hold important meeting about season

(Story)

Feb 25, 2014

Juniors receive senior technology lab assignments

(Story)

Feb 22, 2014

Seniors compete in Harvard Debate Tournament

(Story)

Feb 18, 2014

Winter pep rally celebrates athletes and Mr. Colonial

(Story)

Feb 15, 2014

Teasley describes involvement with Global Public Service Academies

(Story)

Feb 14, 2014

Students respond to Virginia federal judge striking down gay marriage ban

(Story)

Feb 14, 2014

Department of Agriculture representative visits College and Career Center

(Story)

Feb 08, 2014

Sochi Olympics opening ceremony amazes students

(Story)

Feb 04, 2014

Gymnastics season comes to a close

(Story)

Feb 03, 2014

New cryptography class begins second semester

(Story)

Jan 28, 2014

Bioengineering Projects for the Future deadline passes

(Story/Media)

Jan 21, 2014

Snowstorm allows students extra time before midterms

(Story)

Jan 20, 2014

Writing Center plans to welcome new tutors

(Story)

Jan 17, 2014

Swim team does annual team Rob the Cradle askings

(Story)

Jan 01, 2014

Top 13 of 2013: Songs

(Story)

Dec 12, 2013

Choir performs "Dido and Aeneas"

(Story)

Dec 05, 2013

Google Doodles are absent for important days

(Story)

Dec 04, 2013

Marine biology students dissect squids

(Story)

Dec 02, 2013

Students celebrate Thanksgivukkah

(Story)

Nov 25, 2013

"Day of the Doctor" surpasses expectations

(Story)

Nov 25, 2013

UNiTE to end violence against women

(Story)

Nov 23, 2013

Students begin preparing for CSED Week

(Story)

Nov 23, 2013

Fall Sports Review: Field Hockey

(Story)

Nov 23, 2013

Fall Sports Review: Cheerleading

(Story)

Nov 23, 2013

Fall Sports Review: Volleyball

(Story)

Nov 23, 2013

Fall Sports Review: Football

(Story)

Nov 20, 2013

Marching band celebrates their season

(Story)

Nov 19, 2013

Jefferson's publications recognized at JEA/NSPA fall convention

(Story)

Nov 18, 2013

"The Book Thief" falls short of expectations

(Story)

Nov 18, 2013

Volleyball ends season at Regional semifinals

(Story)

Oct 24, 2013

New Youtube series brings life to Jane Austen's "Emma"

(Story)

Oct 19, 2013

"The Tomorrow People" shows promise

(Story)

Oct 19, 2013

Field hockey players enjoy Senior Night

(Story)

Oct 16, 2013

Jefferson students enjoy fall sports pep rally

(Story)

Oct 16, 2013

Fall Sports Pep Rally enthuses students

(Story)

Oct 12, 2013

"Supernatural" season nine takes an angelic turn

(Story)

Sep 21, 2013

Colonials beat Wakefield at Homecoming game

(Story)

Sep 09, 2013

Jewish students celebrate Rosh Hashanah and Yom Kippur

(Story)

Sep 01, 2013

Field hockey opens season with a victory

(Story)

Aug 31, 2013

Froshmores and frunior join Jefferson community

(Story)