Supernatural season 9 finishes strong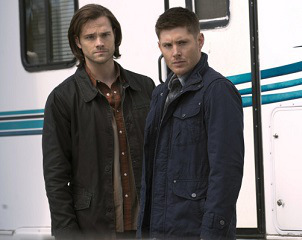 After nine years of the renowned hunting duo ridding the world of evil and fighting the monsters in the dark, the ninth season of the longest running show on The CW network, "Supernatural," came to a close on May 20 with the season finale entitled "Do You Believe in Miracles?" After a rather dull season that didn't use all of the potential that last year's season finale provided it with, this season's final installment definitely lived up to standards set up by past finales of the show.
Though fans were increasingly nervous about the fates of their beloved characters, especially after lead actors Jared Padalecki, Jensen Ackles and Misha Collins all stated that it was the biggest cliffhanger yet, this finale definitely lived up to their expectations and surpassed what they could have imagined the finale would entail.
The episode begins where the previous one let off, with Dean Winchester (Ackles) attacking Gadreel (Tahmoh Penikett) with the first blade, which he obtained earlier that season. Mirroring the occurrences of season 4 when Sam was drinking demon blood, Castiel (Collins) and Sam Winchester (Padalecki) lock Dean into a room to prevent him from harming himself or others with his new weapon of choice.
Dean, of course, as always finds a way out of the situation and soon, along with Crowley (Mark Shepherd), the King of Hell, attempts to hunt down Metatron (Curtis Armstrong) who is tricking the angels into believing his devious plan.As the tensions between the brothers are higher than ever, they need to overcome their differences and petty arguments from this season in order to save the world once more, with a price.
As many of the actors hinted long before the episode aired, the final sixty seconds were a must see for all "Supernatural" fans. Setting up a rather interesting stage for the next season, this finale definitely shows lots of promise for the future of this incredibly long running television series.
Overall, this episode was definitely my favorite one from the entire ninth season. After a rather horrible start with many filler episodes, the writers and actors definitely ended on a high note. Throughout the entire finale, I was crying, laughing, screaming and overall enjoying every moment, Whether when the brothers finally, after roughly twenty episodes, overcome their differences or when the last second filled the screen and scared me for what is to come, this final installment to the season has reaffirmed my adoration for this television series.
A must watch series for any fan of television, this conclusion to the ninth season of "Supernatural" sets the bar incredibly high for any future seasons or other television shows of the same genre. "Supernatural" will return with season 10 on Oct. 14.