tjTODAY staff wins big at write-off competitions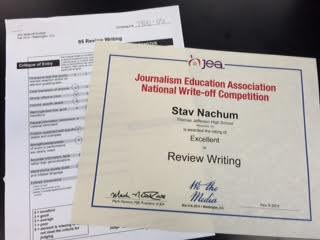 On Nov. 8, members of the tjTODAY staff took part in the annual write-off competition at the National Scholastic Press Association (NSPA) Conference in Washington D. C. along with over two thousand other students from around the country.
With writers competing in categories ranging from sports and review writing to editorial and news writing, individual staff members of tjTODAY staff won several awards. In the category of sports writing, junior Esther Kim received an excellent rating. Similarly, in the category of review writing, senior Stav Nachum won an excellent rating. And lastly, in the category of editorial writing, senior Ellen Kan received an honorable award.
"It was my first time competing in a national write-off contest, so it was very surprising to receive a positive result," Kim said. "Although it was quite stressful gathering all the information and writing an in-depth article within two hours, I did gain more experience in journalistic writing."
These competitions take place each year at the NSPA Convention and allow students to write articles in a chosen category in order to compare their skills to that of other students in the nation. For example, in review writing, the contestants had a miniature concert from a guitar player followed by a question and answer session and had to write an article featuring the man afterward.
Similarly, in the editorial section, the students listened to a speech from a gay man who wanted to adopt a child and how difficult the process was for him. Afterward, these students had to form their own opinion on the issue and create an editorial article on the issue.
"Every time I attend a write-off contest, I am reminded of how much bigger the journalistic world is than what I experience at TJ," Kan said. "In the end, it's not so much about the competition or the writing as it is about expanding my horizons and communicating the stories of others."