Dr. John Sides presents midterm election predictions for global studies students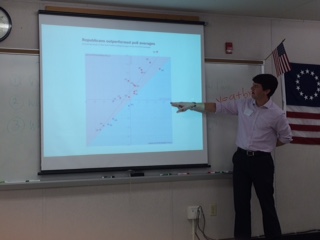 On Nov. 10, the seniors in global studies learned about the midterm elections through a speech by George Washington University Professor Dr. John Sides, who also works for the New York Times through a political blog entitled Monkey Cage. In his speech he managed to create a mix of humor and facts in order to keep the seniors engaged and simultaneously inform them about statistical trends and political elections. 
By explaining his job in predicting elections and how statistics and political science play a role in his everyday job, Sides showed the seniors a new way to look at the midterm elections and why the Republican majority in Congress made sense in terms of past trends.
"Though initially I thought that the presentation from Dr. Sides would not be interesting or engaging, I found that I actually enjoyed listening to him talk about the midterm elections and how his job was used in this situation," senior Marissa Einhorn said. "I found that he really expanded my knowledge of the situation and informed me about concepts that were incredibly interesting to learn."
After studying the election through several small assignments and readings in class, the global studies students were already fairly educated on the midterm elections, but lacked the knowledge that Sides was able to offer them. Through discussions of specific polls and states as well as the background behind creating predictions for winners of the races, Sides was able to provide more insight into the topics.
"I really enjoyed listening to Dr. Sides' presentation during class today," senior Carolina Hatanpää said. "He explained polling concepts and statistical trends in a way that was humorous and easy to understand even for someone who is not taking statistics."
At the end of the presentation, students were given the chance to ask Sides about his career both at George Washington University and at the New York Times. The questions ranged from what his favorite or most interesting part of his job is to specific information about the midterm elections in a certain state of interest.
"Dr. Sides summed up the overall process of predicting polls and elections," senior Shivani Nathan said. "I feel like for the first time I can really understand the election and what happened without having too much background information."