College and Career Center hosts summer program session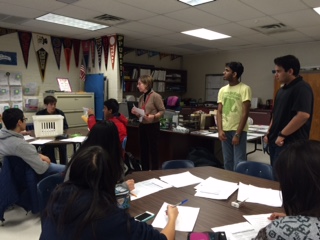 During lunch on Nov. 21, the College and Career Center hosted an event to introduce the Virginia Governor's School program to underclassmen who wanted to apply. With three seniors who were presenting their experience from the past summer at various programs including medicine, mathematics, science and technology and the humanities, this session allowed students with an interest in these summer programs to ask questions about anything that they wanted to know before and while applying.
"The Governor's School program looks like an incredible experience," junior Jordan Ganley said. "I was thrilled at the chance to listen to the seniors talk about what they did throughout their summer programs before I officially applied. It's nice to see what you're signing up for and get questions answered before you actually commit to something and this session allowed us to do just that."
The session started with each of the three seniors speaking briefly about their own experiences and the pros and cons of each program that they attended. This brief description mentioned the highlights of the typical day at the program and what they took from the program, whether an idea for a possible occupation or college requirement for when applying to college.
Afterwards, the seniors answered any questions that the underclassmen wanted to know about the programs they had attended this past summer. The questions ranged from what people did on the weekends and what living in the college dorms to what the classes taught and what the food was like. Some questions were also about the application process itself, including the audition process for certain programs and what test scores were best to send.
"I really appreciated the question and answer session about the summer Governor's School's program," junior Sophia Martinese said. "I now know exactly what I need to do to apply, how I need to prepare for the auditions I have, and what to expect if I get into and attend the program."