tjTOMORROW: William and Mary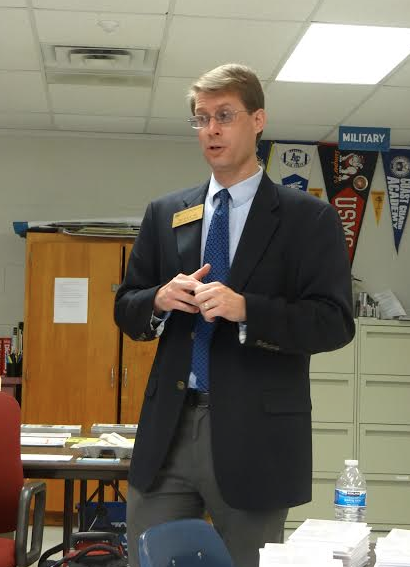 Name: College of William and Mary
Location: Williamsburg, VA
Freshman Class Size: 1567 students
Strong Programs: core curriculum, study abroad programs, undergraduate research opportunities
Representative: Tim Wolfe, 757-221-3980, [email protected]
Located in the historic town of Williamsburg, VA, The College of William and Mary is one of the best in-state schools of Virginia. With both the feeling of a large university and a small liberal arts college, this university is a good fit for almost any type of student, whether sure of their prospective career or unsure of future plans. The College of William and Mary has more than thirty undergraduate programs and countless activities for students to take part in throughout their four years at this university.
During the information session, the representative discussed the possibilities that a student can encounter if they decide to attend The College of William and Mary. He made sure to emphasize how the school is a perfect blend of intriguing and engaging academics and vibrant and unique social life for all students. In addition, since majors do not have to be declared until the end of sophomore year, students have the ability to experiment and discover new passions during their first two years of college before they commit to one or two majors that they must complete.
In addition, the representative spoke about the unique study abroad experiences provided at The College of William and Mary. He showed that every student must complete some form of study abroad in order to achieve a global perspective that the college provides to all of its students. The representative, however, also emphasized that there will be assistance to anyone who needs it in terms of the finances necessary for study abroad programs so that no one student will not be able to complete the experience.
The final part of the presentation was dedicated to discussing the school's student life. At The College of William and Mary there is an incredible amount of activities available for students, despite the relatively small size compared to other universities of a similar caliber. In fact, an emphasis at the university is to merge together the academics and social life as much as possible. Overall, there is a constant feeling of life on campus as students are always involved in one thing or another throughout the year.
The College of William and Mary is surely one of the best schools that will provide Jefferson students with in-state tuition. With a perfect blend of advanced academics at an Ivy League caliber and an active social life available throughout the year, The College of William and Mary provides the best of the liberal arts college experience and university status. Whether a student wants to experience a small college or a large university, this school seems like a good middle ground that any student would enjoy for four years.