Lost and found wastes students' time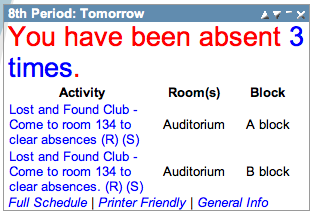 As students of all grade levels opened their email inboxes this week, they saw in an email's subject in giant capital letters: LOST AND FOUND. With a sinking feeling, many realized they hadn't checked their eighth period absences in weeks and that their absences were more than two weeks old. Even though most students went to eighth period consistently, sign-in mishaps and technical difficulties have led to this: lost and found.
Emails about lost and found club were sent out to all students with three or more eighth period absences, or two additional absences since the last lost and found. In fact, 364 students were signed up for the lost and found session held on Friday, March 14. That is almost the number of students in one grade level at Jefferson. That many students made three measly mistakes that have doomed them to an hour and a half of silence as they stare at the wall, forcing their eyes open as they try not to fall asleep.
However, as always, these absences are not always the students' fault. With such busy schedules including tests, quizzes, sports, clubs, and all the stress of the SAT and other college readiness tests, how can a student possibly remember to check intranet on a daily basis to ensure they have no absences that shouldn't be there? And why, as a result, should said student be sentenced to an hour of wasted time that could have been used to remove this stress from their life? With such busy lives, most students barely have time to get the proper amount of sleep, yet here the administration is wasting over an hour of their time that could be used for homework or extracurricular activities so that students can get their much needed rest.
Surely there must be a better way to solve this problem. A way to effectively show students that they must abide by the rules and clear their absences, but also a method to ensure that they do not waste time staring at the wall pondering what a waste of time this is. Perhaps these students can use this time to volunteer by assisting teachers or tutoring students at the nearby elementary school. Or maybe these students could be using this time as a study hall. The punishment could be that rather than attending a fun activity on a Friday afternoon, they will have to sit and do their homework. Both of these alternatives are preferable over the current situation as not only are students being unproductive, they are also becoming more stressed as a result of innocuous slip-ups.
Essentially, lost and found wastes a students' time that they don't have to waste. In forcing them to sit in silence, the administration is simply adding more stress to an already difficult time in a students' life. Perhaps they should reconsider how they deal with harmless mistakes rather than force students to suffer.