"Run All Night" provides thrills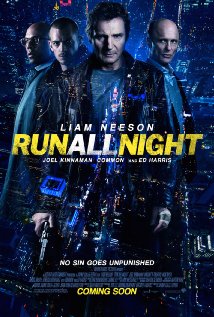 I can honestly say that "Run All Night" is the best sins-of-the-father revenge thrillers I have seen in a long time. A bloody, hard-hitting mob action and drama film that ensures entrainment for its entire duration, the film exceeded any and all expectations that I had going in.
The film tells the tale of a mobster and hit man named Jimmy Conlon (Liam Neeson) who has one night to figure out where his loyalties lie, either with his estranged son, Mike (Joel Kinnaman), or his longtime best friend, mob boss Shawn Maguire (Shawn Maguire), who wants Mike to pay for the death of his own son. Eventually, hunted by the mobs, Jimmy and Michael must survive the night and hope that they can get their version of the truth to the only good cop in town.
"Run All Night" is an immensely satisfying blend of gripping mob drama and thrilling action set pieces that is easily Liam Neeson's most credible work in recent years. The well-directed, nonstop action highlighted by tension-enhancing music, exceptional cinematography, and amazing dialogue creates a film that is far more than just a bland action film that many Neeson films have been in the past. In fact, it is the mix of all of these different aspects that has the entire audience shaking in its boots throughout the entirety of the film.
While the film may look like nothing more than just another Liam Neeson movie after Taken, and understandably so with the usual look and its revenge premise, "Run All Night" has enough substantial material and gritty crime ambiance to entertain and surpass most other Neeson flicks. In a more convincing noir set-up, the movie gives Liam Neeson more range on his character, while also allowing him to remain in the action role that fans have come to know him as. All of these aspects make "Run All Night" one of the best Neeson films yet and a wonderful stand alone action film to watch.