Bastille performs at the Patriot Center on "Bad Blood" tour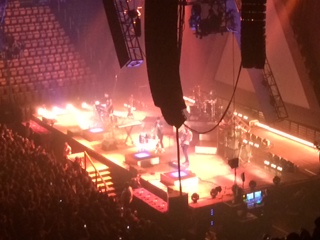 The Patriot Center was packed full of high school and college students on Saturday Oct. 11 as they celebrated the incoming of the fall season with a concert featuring the band Bastille. Performing a plethora of songs from their newest album "Bad Blood," including their most famous song "Pompeii" and others such as "The Silence," "Laura Palmer" and "The Weight of Living Part I," Bastille managed to keep the audience singing along and energized throughout the entire night.
A highlight of the concert included Bastille playing two selected songs from their new album as well as covers of popular songs that many fans would recognize from other bands with a Bastille spin on them. While fans seems to be able to sing along more to the lyrics of the well known songs from Bastilles first and second albums, they seemed to enjoy being the first to hear some of the special songs on the next album that Bastille is planning to release.
Another special aspect of the concert was that the band took a lot of the popular songs from their first and second albums and either slowed them down or sped them up to go with the flow of the fans at the concert. For example, the song "Overjoyed" which is already a slow song to begin with, was slowed down even more to give the fans a chance to really embrace the words and feel what the band was attempting to portray with the song.
Sporting a GhostbustersT-shirt and an old gray hoodie, lead singer Daniel Smith not only sang from the stage but also moved around the stadium to meet fans while he was singing. Even those in the nosebleed seats were able to run down the stairs and interact with the lead singer if they moved quickly enough, which is uncommon at such a large concert. This seemed to only increase the excitement in the crowds as many fans leaped down the steep stairs of the Patriot Center for a chance to meet Smith.
Overall, this concert was an incredible event hosted at the Patriot Center this year. For fans of the band, I would highly recommend attending their next concert just for the experience and wonderful time you will have when you attend. Bastille made my weekend into one full of music, dancing, and enjoyment and this is one concert that I will never forget.