Sheppard's "Bombs Away" delivers with consistently catchy ballads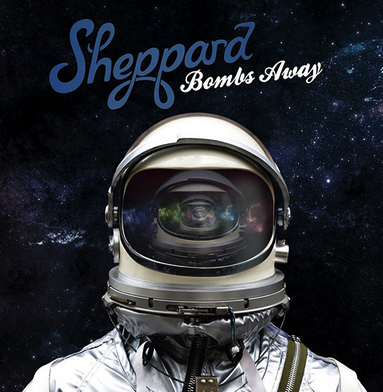 "Bombs Away," Sheppard's debut album, storms into the room with all the class and youthful energy you'd expect from a band who took over the Australian charts with their single "Geronimo." The album is rhythmic and light fueled and keeps you eager for the next song for the entirety of its 41 minutes. Throughout the album, Sheppard's songs take all the best aspects of modern and 90's pop and blend it with indie and nu-folk to make it a genre of music that is very much their own and enjoyable to listen to.
Almost everyone has heard the catchy and fun song, "Geronimo," that sounds on the radio an average of three times an hour. The upbeat rhythm and incredible vocals are unmistakable. Yet within this album, Sheppard also placed some slower songs with guitars and soft lyrics. Some such songs are "Something's Missing," and "The Best is Yet To Come" which eventually pick up in tempo and become catchy ballads and distinct rhythms.
One of the most memorable and enjoyable songs in the album, "Let Me Down Easy" has a catchy tune that easily has you singing along. Although the song takes on a rather sad subject matter, describing a relationship in which one partner wants the person he's in a relationship with to let him down easy when the two break up. However, with Sheppard's clever rhythms and upbeat chords, it's hard not to find yourself swaying to the beat and even singing along by the end.
Another memorable song off the album was "Smile." Sung entirely by the primary female vocalist, Amy Sheppard, the song sounds almost as if it were on a different album produced by a different band. The most unique element of Sheppard's music is the difference of sound between the two lead vocalists, George and Amy Sheppard, that gives the the songs sung by Amy Sheppard a different feel. Still a rhythmic ballad like "Let Me Down Easy," the song never fails to please the ears and showcases the wide range of musical styles the band can produce.
Formed only in 2009, this young band has already received international recognition for their latest releases, as they were nominated for Best Independent Release for "Let Me Down Easy" in 2013 at the ARIA Music Awards. At just last year's ceremony, the band also was nominated for Album of the Year, Best Group, Best Independent Release, Best Pop Release, Song of the Year, Producer of the Year, and Best Video.
If the band was recognized to such an extent in Australia, it is likely they will make their next impact in the next few months in the United States. As can be seen by the already rising popularity of their latest single "Geronimo," their impact will be a great one. For Sheppard- "The Best is Yet To Come."