Cryptography course takes field trip to NSA's museum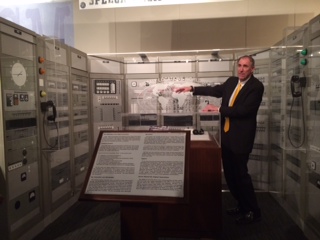 A new course this year at Jefferson, cryptography was introduced as a second semester elective for students seeking another math credit and having an interest in coding and ciphers. After months of studying codes, deciphering messages, and learning about modern day application of cryptography, cryptography teacher Hana Rhee believed that this would be a chance for her students to see what they had learned in the classroom in real world situations such as wars and covert operations.
"I thought this field trip would be an incredible experience for my students," Rhee said. "After watching the students ask questions and explore the museum with the tour guide I know that they definitely got a lot out of the learning experience and saw how their lessons from my course have been applied to situations in the past and present."
With several stories about how the Soviets managed to bug the American embassy in the Soviet Union during the Cold War and the use of several cryptography machines by the Germans during the Second World War, the students were able to travel around the museum and uncover the past through codes, ciphers and hidden messages.
The highlight of the tour was when student volunteers were chosen to come forward and use an old German cryptography machine. They were able to change the rotor setting, encrypt a word, and then by resetting the rotor setting they could decrypt it as well. Although there were no modern applications from this century as they are still top secret files in the government, the past uses of cryptography were just as interesting and educational for the students.
"I loved going to the museum for our cryptography course," junior Shirley Burt said. "I was so interested in everything around us and I wish we had had more time to look around and explore the museum. I'm already making plans to go back and see everything I missed because everything there was just so interesting and I want to spend more time learning about it."