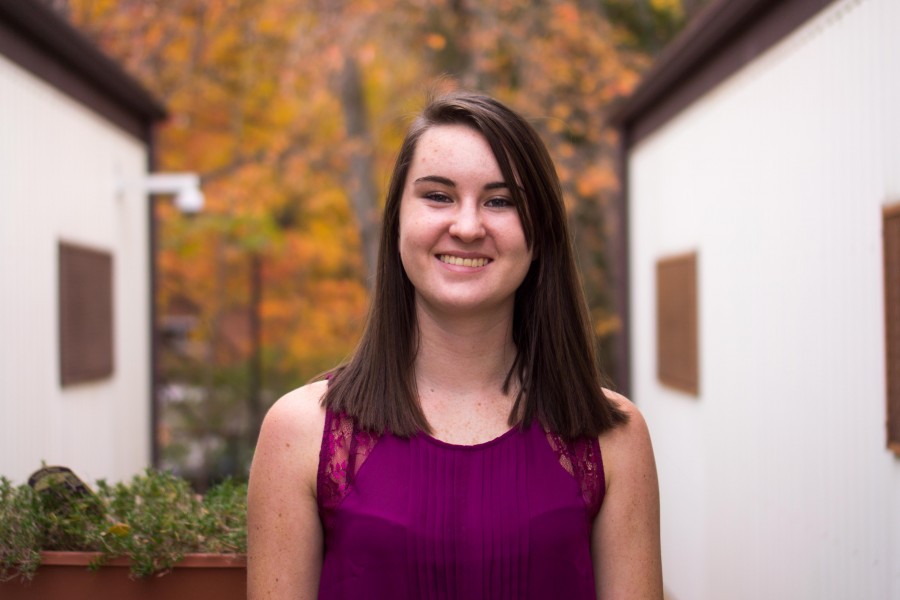 A senior at Jefferson, Alexis is in her third year of working on the newspaper staff. As Design Editor, she oversees design of the paper, works on design-intensive pages and trains new staffers in graphic design. In the past, Alexis has served as Features Editor and Spread Editor.
Alexis joined tjTODAY because she was looking for a way to be involved in the TJ community and loved reading the newspaper every month.
Outside of journalism, Alexis is captain of the Varsity Dance Team, a member of KLR Studios of Dance and Music K'llr Comp Crew, a Girl Scout and secretary of TJ Guitar Club. After high school, Alexis would like to pursue a career in medicine.
http://alexiswilliams.pressfolios.com/
Alexis Williams, Design Editor
Jun 14, 2015

Counselors host "Dating 101" workshop for senior girls

(Story)

Jun 08, 2015

TJ On: "Call Me Caitlyn"

(Story)

May 29, 2015

FCPS and Fairfax County Fiscal Year 2016 Budget Analysis

(Story)

May 05, 2015

"Fiddler on the Roof" reflects hard work of cast and crew

(Story)

May 05, 2015

Girls' crew lower boats excel at state finals

(Story)

Apr 13, 2015

DARPA director holds TED Talk about science and government

(Story)

Mar 22, 2015

TJ Media attends CSPA convention

(Story)

Feb 25, 2015

TJSD excels at State Championships

(Story)

Feb 24, 2015

Why scholastic journalism is worth the work

(Story)

Feb 17, 2015

Students "Just Dance" for Mental Wellness Week

(Story)

Feb 09, 2015

Swim team excels in post-season meets

(Story)

Feb 01, 2015

Dylan Gardner brings fresh life to pop music

(Story)

Jan 23, 2015

Orchestra Performs Winter Concert Despite Inclement Weather

(Story)

Jan 06, 2015

Students show disappointment at FCPS decision through trending #closeFCPS

(Story)

Jan 04, 2015

Top 14 of 2014: Songs

(Story)

Dec 20, 2014

National Art Honor Society spreads art awareness through festive celebration

(Story)

Dec 16, 2014

Dance Team excels at first competition

(Story)

Dec 04, 2014

Jefferson's Ferguson protests are positive political actions

(Story)

Nov 24, 2014

Students waltz at Viennese Ball

(Story)

Nov 16, 2014

"Big Hero 6" brings family fun to superhero genre

(Story)

Oct 28, 2014

Langely Saxons defeat Jefferson Colonials 48-7

(Story)

Oct 17, 2014

Seniors use long weekend to go on Geosystems field trips

(Story)

Oct 14, 2014

"The Maze Runner" brings popular novel to life

(Story)

Oct 01, 2014

tjTOMORROW: Tips for college visits

(Story)

Sep 28, 2014

Heated Homecoming competitions can lose sight of school spirit

(Story)

Sep 18, 2014

tjTOMORROW: Rice University

(Story)

Sep 17, 2014

Sights and Sounds: Back-to-School Bash and First Home Game

(Media)

Sep 07, 2014

Dierks Bentley concert blends pop and country seamlessly

(Story)

Sep 01, 2014

Sweet and Savory Summer: Buffalo Chicken Pizza

(Story)

Aug 25, 2014

ALS ice bucket challenge works, if you do it right

(Story)

Aug 10, 2014

Sweet and Savory Summer: Super-Fresh Guacamole

(Story)

Jul 31, 2014

Vlogbrothers summer book club book shows complexities of poverty

(Story)

Jul 08, 2014

"Tammy" brings together heart and comedy

(Story)

Jul 06, 2014

Sweet and Savory Summer: Burgers and Baked Beans

(Story)

Jun 14, 2014

Jefferson hosts annual Sports Preview Night

(Story)

Jun 08, 2014

"Avatar: the Last Airbender" themed jDAY brings fun to end of year

(Story/Media)

Jun 08, 2014

"City of Heavenly Fire" brings action to "Mortal Instruments" finale

(Story)

Jun 02, 2014

Bed, Bath, and Beyond representatives present seminar on college packing

(Story)

May 26, 2014

Students celebrate Memorial Day weekend

(Story)

May 26, 2014

"X-Men: Days of Future Past" impresses Marvel fans

(Story)

May 18, 2014

Moving up the French AP exams was not beneficial to students

(Story)

May 06, 2014

How to stress less during AP weeks

(Story)

May 01, 2014

GSA welcomes guest speakers for LGBTQIAP education

(Story)

Apr 12, 2014

GSA's Day of Silence raises awareness of LGBT+ bullying

(Story)

Apr 11, 2014

Jefferson students prepare to take trip to Nicaragua and Costa Rica

(Story)

Apr 07, 2014

TJ Media celebrates journalism at JDAY

(Story)

Mar 30, 2014

"Muppets: Most Wanted" gives laughs and fun to all ages

(Story)

Mar 23, 2014

Everything you wanted to know about FCPS's most famous school board member

(Story)

Mar 18, 2014

Students celebrate St. Patrick's Day

(Story)

Mar 16, 2014

"Son of God" does not do justice to Biblical story

(Story)

Mar 09, 2014

Students prepare for Pi-Miler

(Story)

Mar 08, 2014

Winter sports banquet celebrates winter athletes

(Story)

Feb 23, 2014

Dance team triumphs at final competition

(Story)

Feb 21, 2014

Students shouldn't let grade point average rule their schedule choices

(Story)

Feb 16, 2014

"This Star Won't Go Out" inspires readers with heartbreaking story

(Story)

Feb 15, 2014

"Vampire Academy" disappoints book fans

(Story)

Feb 09, 2014

Guest speaker discusses foreign policy with students

(Story)

Jan 30, 2014

What does the President's State of the Union Address mean for Jefferson students?

(Story)

Jan 25, 2014

"First Love" gives a new spin on the cancer love story

(Story)

Jan 25, 2014

Jefferson plays Wakefield in Varsity Basketball

(Story)

Jan 24, 2014

Parents should be kept well-informed in the college search process

(Media)

Jan 16, 2014

Juniors begin college process

(Story)

Jan 12, 2014

Jefferson Varsity Dance opens competition season

(Story)

Dec 27, 2013

Top 13 of 2013: Books

(Story)

Dec 09, 2013

Teachers should not assign extra homework on snow days

(Story)

Dec 08, 2013

Owen combines pop style music with country twang

(Story)

Dec 06, 2013

"Dido and Aeneas" stuns audience with vocal performance

(Story)

Dec 03, 2013

TJ 3Sat team prepares for first contact

(Story)

Nov 29, 2013

Early "Black Friday" hours cause controversey

(Story)

Nov 24, 2013

"Sycamore Row" intrigues readers with court drama and mystery

(Story)

Nov 20, 2013

Students begin preparations for Governor's School at interest meeting

(Story)

Nov 17, 2013

"Identical" transforms Greek myth into crime drama

(Story)

Nov 10, 2013

Trilogy conclusion disappoints in "Allegiant"

(Story)

Oct 30, 2013

Jefferson student organizations work to raise breast cancer awareness

(Story)

Oct 27, 2013

FHS hosts pumpkin painting for exchange students

(Story)

Oct 27, 2013

French exchange students experience American culture

(Story)

Oct 25, 2013

"Killing Jesus" retells Bible story

(Story)

Oct 20, 2013

"Reign" debut intrigues viewers

(Story)

Oct 14, 2013

"House of Hades" excites series fans

(Story)

Oct 09, 2013

Math department switches to semester courses

(Story)

Sep 26, 2013

Students banned from congregating in Audlob

(Story/Media)

Sep 22, 2013

Juniors win homecoming float competition

(Story)

Sep 10, 2013

Homecoming Asking Week: Tuesday

(Story)

Sep 09, 2013

Homecoming Asking Week: Monday

(Story)

Aug 29, 2013

Dance Team begins to work on football season routines

(Story)