TJSD excels at State Championships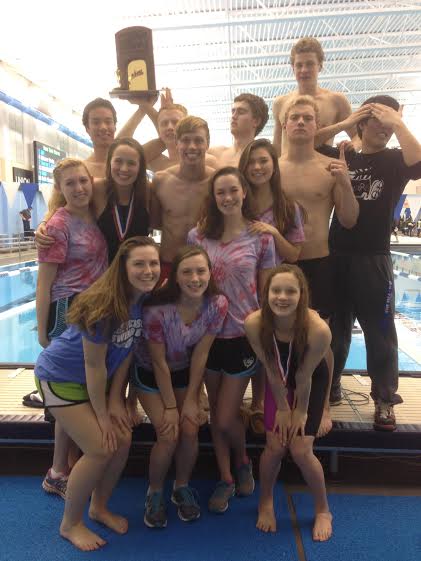 On Feb. 21, individuals of the Thomas Jefferson Swim and Dive (TJSD) participated in 5A State Swim and Dive Championships and came out with an exceptional outcome. The boys' team won first place overall, a title that they had been seeking to gain again since their 2002 victory.
"The boys' team deserved this win so much. The girls team made a tunnel for the boys as they ran onto the podium to receive their championship trophy," senior Jessie Heise, captain of the girls team, said. "A state title has been a goal for the boys and our coach since our freshman year and it was a great way for all the seniors to end our high school swimming careers."
The boys' team's success can be attributed to the number of successful swimmers on the team.
"The main factor is the depth of our team," senior Luke Thorsell said. "We had a large number of swimmers make the States team from all classes, freshman to senior, so we were able to score a lot of individual points and have versatility in our relays."
The girls team won fourth overall and individual divers junior Valentina Lohr, senior Callan Monette, sophomore Gloria Chen and sophomore CJ Wilson won second, third, fourth and eighth respectively.
"When I realized I had gotten eighth, I was a little bummed, but looking back at it now I had a great meet and I did my best and that is all you can really ask for," Wilson said. "I can't even express how excited I am for the girls! They are amazing and couldn't deserve it more."
In the 200-medley relay, seniors Sophie Bennett, Sydney Harrington, Carrie Heilbrun and junior Charlie Lertlumprasert broke the school record.
After preliminary rounds, TJSD quickly advanced to the finals, where they shattered the 200 IM relay record by over a second with a time of 1:33.00. Later on, senior Andrew Seliskar claimed his throne as the fastest Virginia High School League (VHSL) in history and the second fastest ever swum by a high school student student in the country with a 200 IM time of 1:43.01.
"Although I was slightly off of my goal of breaking the record, I was still very happy with my time, and am really motivated to train and swim harder later this year with my club team," Seliskar said.
Overall, TJSD's success at the State Championship was the end of a great season for TJSD.
"TJSD has been the best decision I have ever made and the reason I stayed at TJ," Heise said. "I've never had so much fun with another group of people and it has been a blessing to be a part of it all. TJSD is love."