"City of Heavenly Fire" brings action to "Mortal Instruments" finale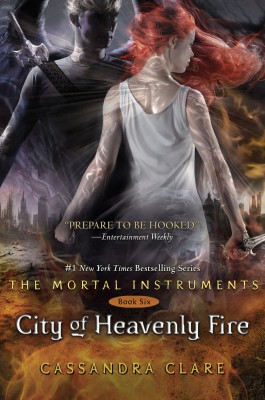 The final installment of "The Mortal Instruments" series by Cassandra Clare, "City of Heavenly Fire," was released on May 27. The book, which is the sixth in the series, concluded the adventures of demon hunter Clarissa Fray and her friends Jace Herondale, Alec and Isabelle Lightwood, as well as her vampire friend Simon Lewis.
The entire "Mortal Instruments" series has been a mix of romance and fantasy adventure, with the unique world that Clare has created as a backdrop. However, "City of Heavenly Fire" balances the romance and adventure better than the previous books in the series and takes full advantage of the originality of Clare's world; it makes use of other dimensions, magic, and all of the politics between the species of Shadowhunters (the part-angel demon hunters) warlocks, vampires, werewolves and fairies. The story moves between the somewhat-normal New York setting to the picturesque Shadowhunter kingdom of Idris, the wildly beautiful fairie kingdom of Fae and the burning wasteland of the demon realm Edom, and Clare makes the contrast between worlds stark with her descriptions.
Clare also used the last installment of the "Mortal Instruments" to tie up loose ends in her other series, "The Infernal Devices," which is set in the same world as the "Mortal Instruments" series but in 19th century London. Some of the characters from the "Infernal Devices," who are immortal in the context of the story,make appearances, an element which adds more meaning to the end of both books.
One of the few flaws in the book was the romantic aspect; although Clare writes romance well, the teenage puppy-love in such an action-packed plot seems unnecessary. However, there is something to be said for the way Shadowhunter Alec Lightwood and warlock Magnus Bane's romance is written; it's a gay love story that doesn't actually center around the fact that they are gay, a rarity in  the young adult (YA) fiction genre. Unfortunately, between only the main characters of the book there are three couples, so the romance is a bit overdone.
"The Mortal Instruments" series is a successful franchise, but "City of Heavenly Fire"far outdid its predecessors. The beauty of the fantasy world that Clare created really shined in the last installment and the action and adventure would definitely draw in fans and newcomers alike.