Vlogbrothers summer book club book shows complexities of poverty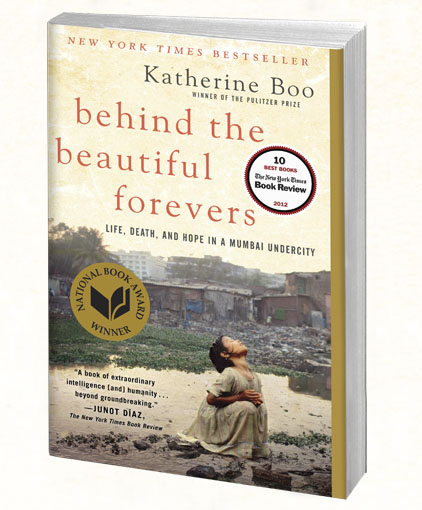 The popular YouTube channel Vlogbrothers, co-hosted by "The Fault in Our Stars" author John Green, hosted a summer book club for all of its fans. The book was "Behind the Beautiful Forevers: Life, Death, and Hope in a Mumbai Undercity" by Katherine Boo, published on Feb. 7, 2012. The book features several families in the Mumbai slum of Annawadi and their struggles to survive.
The book follows two main families, that of aspiring slumlord Asha and her daughter Manju, who's in college, and that of Abdul, a young trash sorter who provides for his family and ailing father. The setting of Annawadi, a slum in between a sewage lake and the airport, is a main plot point of the book. It is a place in which very few people have enough to eat, the most common professions involve garbage, and corruption is the norm.
At the beginning of the book, things seem to be going well for Asha's family as well as Abdul's. Asha has accumulated a great deal of political power in the slum, and Manju is preparing to graduate college. Additionally, Manju is beautiful, with many good prospects for marriage. Abdul's family is dominating the trash-sorting business of Annawadi, and Abdul himself is the best trash sorter. They have even raised enough money to put in a down payment in a nearby suburb.
However, the darker undertones of life in Annawadi begin to show as things slip for Asha's family as well as Abdul's. Asha loses most of her political power when one of her major connections are deposed, and through an unfortunate fight with a neighbor, Abdul and his father and sister are sent to jail. The family loses income and is unable to afford the new suburb. Additionally, there are subplots of conflict between the Muslims of Abdul's family and the Hindus of most of Annawadi, including Asha's family, as the Hindus believe more and more that the Muslims are "stealing" the few jobs available.
The book manages to realistically weave together all of the unfortunate parts of living in the slums of India while still maintaining a message of hope. However, the novel does manage to speak out against the corruption, poverty, disease and bigotry that is present in lower-class Mumbai as well as the classism between the rich of the "overcity" and the poor of the slums. "Behind the Beautiful Forevers" is a thoughtful read for the summer.