TJ Media celebrates journalism at JDAY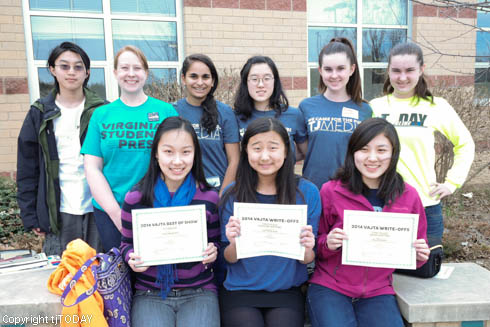 Sans serif font packaging, yearbook copy writing and the 45 words of the First Amendment — the journalists, photographers and editors of tjTODAY and Techniques explored the world of journalism at JDAY, held by the Virginia Association of Journalism Teachers and Advisers (VAJTA). Eleven Jefferson students traveled to Westfield High School, located in Chantilly, Va., on April 4-5 to attend workshops and class sessions.
JDAY began on Friday night as students took intensive workshops on improving mobile journalism, photography and online publications. These workshops were held by Bradley Wilson, editor of the publications for the Journalism Education Association (JEA) and director of student media at Midwestern State University, Sarah Nichols, yearbook adviser for the publications at Whitney High School in California and vice president of JEA, Chris Waugaman, director of VAJTA, Erinn Harris, associate director of VAJTA and Lindsay Benedict.
The next day was a chance for students to take classes in specific topics they were interested, such as design or ethics. Students also participated in writing and design competitions, called write-offs, with either carry-in samples from the newspaper and yearbook or articles written onsite. The students also attended two keynote speaking sessions from prominent journalism advisers from across the country: Wilson, who discussed ethics, and Nichols, who discussed modern journalism.
"I really enjoyed going to all of the workshops and I liked how there was something for everyone. I went to most of the yearbook sessions but it wasn't just all about design," junior Eileen Zheng, a yearbook team leader, said. "There were sessions about selling our brand and organizing our deadlines. The best part was getting new ideas from other schools and advisers."
The last part of the weekend was the awards ceremony. Jefferson had several winners for write-offs. Zheng placed first in Yearbook Design; junior Alexis Williams, tjTODAY's spread editor, placed first in Newspaper Design; junior Ellen Kan, tjTODAY's managing editor, placed first in News Writing; sophomore Esther Kim, tjTODAY's sports editor, placed first in Feature Writing and freshman Alvin Shi, a yearbook staffer, placed first in Infographics.
Jefferson's yearbook, Techniques, won Best of Show at the convention. In addition, Assistant Principal Shawn DeRose received the Administrator of the Year award for his support of the publications at Jefferson.
"I think that it's amazing that yearbook won Best of Show at JDAY this year," junior Sanjoli Agarwal, a yearbook staffer, said. "All of the yearbook staff worked very hard to produce a yearbook that the faculty and students love."
Students were pleased by the experience, especially because they had gained valuable knowledge and ideas.
"Winning first place in newswriting was a pleasant surprise, and it was rewarding to see how far all of us have come since we first joined TJ Media," Kan said. "Overall, I really enjoyed JDAY because the workshops were the perfect combination of informative, entertaining and thought-provoking."
Leave a Comment