DARPA director holds TED Talk about science and government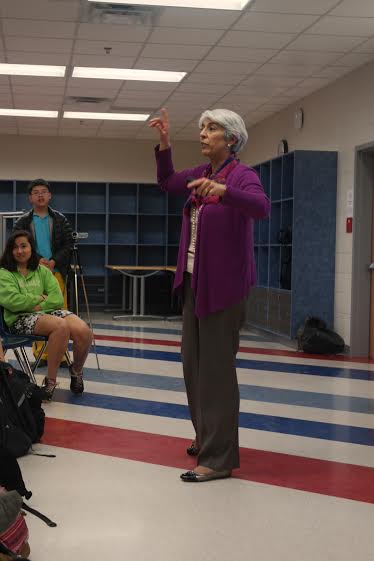 Stealth aircraft. Prosthetic limbs that can move with just a thought. The Internet itself. What do all of these inventions have in common? All of them were or are being developed by DARPA, the Defense Advanced Research Projects Agency. The director of DARPA, Arati Prabhakar, came to give a TED talk at Jefferson on Friday, Apr. 10.
Prabhakar mainly discussed what kinds of projects DARPA was involved in, ranging fields from cyber-security to faster infectious disease control. Prabhakar also discussed the role Jefferson students could play in DARPA's future.
"DARPA is an unparalleled place to make an impact on the world," Prabhakar said. "If you care about technologies, there are lots and lots of ways to make a better future."
Getting Prabhakar to Jefferson was no easy task, however. Junior Wendy Wang, who set up Prabhakar's TED talk, had to use the email pattern of DARPA to try to figure out Prabhakar's email address. But for Wang, it was worth it.
"At a school like ours, there's a lot of emphasis placed on hard science research, and it's especially important for students to have the opportunity to explore the connection between science and government," Wang said. "I think Prabhakar's involvement with DARPA serves as a fantastic example of the importance of having STEM and policy working with one another, and not as separate functions."
Prabhakar also took time to speak to junior Ava Lakmazheri, who shared her robotics project.
"My project involves brain-computer interfacing and its application in helping people with physical disabilities perform motor tasks" Lakmazheri said. "Specifically, I developed an interface that uses an individual's brainwaves to control and program a humanoid robot. As part of my work in this area, I had researched DARPA and their Revolutionizing Prosthetics program."