Dierks Bentley concert blends pop and country seamlessly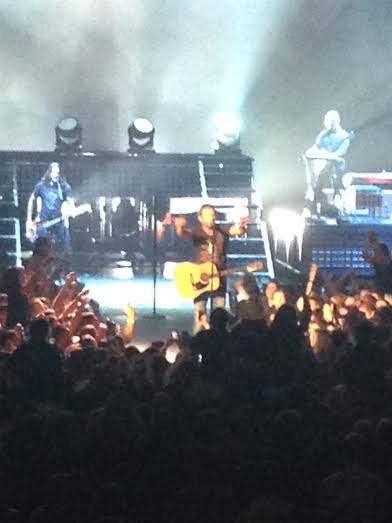 The popular party-music boy band Hot Chelle Rae opened for country star Dierks Bentley during a performance at the United States Naval Academy on Sept. 5. Hot Chelle Rae performed a 50-minute set with all of their most popular songs, including "Tonight, Tonight" and their new single "Don't Say Goodnight." Bentley performed many of his greatest country hits, including his new song "Drunk on a Plane."
Hot Chelle Rae was energetic and fun, creating a great atmosphere during the first hour of the show. The band played almost exclusively upbeat, party-style music during their set, mostly from their first album "Whatever," released in 2011.
The real entertainment value of the show, however, came unsurprisingly in the second act. Bentley did not focus on a specific album for his set, but rather, played the greatest hits from all of his albums. He performed a range of types of music, from slower ballads like "Come a Little Closer" to his more popular upbeat songs like "Sideways," but all with his signature country twang. Bentley even put his own twist on the OneRepublic hit "Counting Stars," giving it a country tone that, surprisingly, worked perfectly.
Bentley also did a good job of incorporating different instruments into his show. While he obviously utilized traditional guitars, he also had band members playing fiddle as well as banjo, and highlighted them during the show. These instruments gave an even more country vibe to the concert.
Although Hot Chelle Rae and Dierks Bentley performed two completely different styles of music, they came together very well for the concert to create a distinct crossover feel with an upbeat vibe.
Leave a Comment