National Art Honor Society spreads art awareness through festive celebration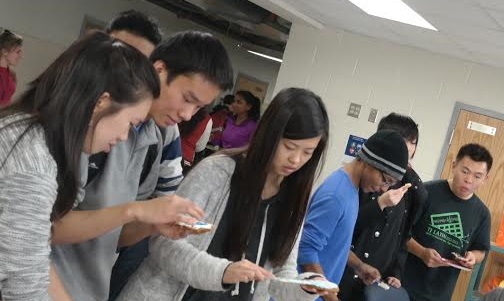 The smell of gingerbread cookies mixed with the sounds of laughter filled the air as students excitedly made cookies and Christmas ornaments. On Dec. 17, National Art Honor Society (NAHS) hosted a gingerbread cookie-decorating holiday event open to all students.
The event was held in order to raise awareness for the arts at Jefferson, where they often do not receive as much attention as in other schools.
"We've been wanting to raise art awareness throughout TJ, since after all it's a science and technology school and art doesn't get much attention," senior Kali Liang, a member of NAHS, said. "We thought this would be a fun, festive way to make people happy while raising awareness for art."
At the event, there were multiple stations available and students spent ten minutes at each station before rotating. The stations included one with gingerbread cookie decorating, a test-tube Christmas ornament station in which students could fill test tubes with beads and decorate them with ribbons to create a Christmas ornament, a paper snowflake-decorating station and a keyboard tinsel station.
"For the keyboard tinsel station, we took apart keys from old keyboards and got string and hot glue guns so students could make tinsels out of those and spell whatever they wanted to," Liang said.
Generally, however, the food station was the most popular.
"My favorite part was probably actually decorating the cookies in the middle of the commons," freshman Ankit Agrawal said. "There were a lot of options to pick from at the station, and was just something relaxing and fun to do."