"First Love" gives a new spin on the cancer love story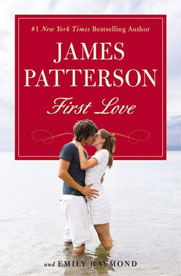 In December 2013, James Patterson, renowned author of the "Maximum Ride and Witch and Wizard," released "First Love," a novel recounting the adventures of Alexandra "Axi" Moore and her best friend Oscar "Robinson" Robinson.
Although the undercurrents of the novel seem somewhat trite, the classic cancer story reminiscent of the young adult bestseller "The Fault in Our Stars" by John Green—girl with cancer falls in love with boy who had a high chance of survival but relapses—the way that Patterson tells the story is entirely new.
Moore is, at the beginning of the novel, a "good girl" with a sister who died from cancer, a mom who walked out, and a dad who is an alcoholic. She turns this "good girl" side of her on its head when she decides to run away with best friend, high school dropout and bad boy Robinson. Unfortunately, this all happens in the first few pages in the book, so the reader gets very little insight into this "good girl" persona of Moore, so it is not shocking when she runs away, although that was the intended effect. The grand theft auto as a means of transportation, however, was a shock and an insight into the fast pace of the rest of the book.
As Axi and Robinson continue their high speed trip across the country, complete with amusement park rides and a kidnapped cop, Robinson's condition worsens and they have to make multiple stops at hospitals, always leaving before the real verdict of cancer can come back. At the end of the trip, Robinson, who was living with his uncle at the beginning of the story, surprises Axi with a trip to his parents' house on the other side of the country. The soft, homey environment created by Robinson's parents is a fitting end for the story arc, and the ending is predictable but still emotional.
The tone of the book is playful but also definitely emphasizes the idea that Axi has never done anything like this road trip before. Patterson also eloquently expresses Axi's fear for Robinson when he is sick. The plot is fast-paced and exciting as Axi and Robinson's relaxed road trip becomes a race against time to go everywhere they want to before it is too late. Patterson allows the reader to really empathize with Axi's emotions throughout the novel, and though the cancer storyline feels trite the writing redeems it. Patterson based some elements of the novel off of personal experiences, and it really shows in his writing.