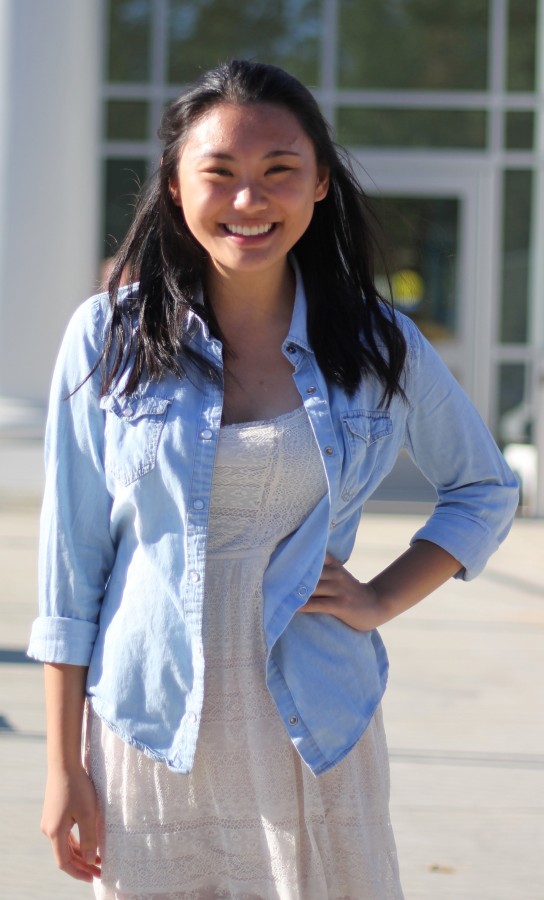 A senior at Jefferson, Kate is in her second year of working on the newspaper staff. As Design Editor, she oversees overall design for the print newspaper. In the past, Kate has served as a reporter for tjTODAY Online.
Kate joined tjTODAY because she has always been an avid newspaper reader due to her love of writing, and has always be interested in learning design and improving her writing skills.
Outside of journalism, Kate is currently the secretary for WISE (Woman in Science and Engineering), where she pushes for increased recognition and opportunities for women in the field of STEM. In her free time, Kate enjoys writing short stories and has a passion for music and singing. She also enjoys fashion and architectural design. After high school, Kate would like to pursue a career in business or journalism.
http://katedeng.pressfolios.com
Kate Deng, Design Editor
Apr 04, 2016
Mar 14, 2016

Glazer announces departure after 2016-2017 school year

(Story)

Feb 07, 2016

Science Fair Photo Gallery

(Story)

Jan 24, 2016

Snow Day Timelapse

(Story)

Dec 31, 2015

Top 15 of 2015: #Hashtags

(Story)

Oct 28, 2015

Homecoming Week 2015: Friday Oct. 23

(Story/Media)

Oct 22, 2015

Homecoming Week 2015: Wednesday Oct. 21

(Story/Media)

Oct 22, 2015

Homecoming Week 2015: Thursday Oct. 22

(Story)

Oct 16, 2015

Homecoming Asking Week 2015: Thursday Oct. 15

(Story)

Oct 15, 2015

Homecoming Asking Week 2015: Tuesday Oct. 13

(Story)

Oct 10, 2015

Homecoming Asking Week 2015: In Review

(Media)

Oct 06, 2015

Homecoming Asking Week 2015 Picture of the Day: Tuesday Oct 6

(Story)

Oct 05, 2015

Homecoming Asking Week 2015 Picture of the Day: Monday Oct 5

(Story)

Sep 30, 2015

TJ Drama's "The Little Mermaid" auditions makes a splash

(Story)

Sep 28, 2015

Lana Del Rey's "Honeymoon" takes a dark turn

(Story)

Sep 19, 2015

Jefferson hosts annual back to school bash and home football game

(Story)

Sep 06, 2015

Jefferson interns at Givology work to promote #MyFavoriteTeacher and TJ E^3 raises awareness for their fall 5K

(Story)

Sep 06, 2015

Staycation Sundays: Great Falls Park and Burke Lake Park

(Story)

Aug 02, 2015

Staycation Sundays: DIY Spa Night

(Story)

Jul 31, 2015

MTV's "White People" is a good start in sparking discussion about race

(Story)

Jul 26, 2015

Staycation Sundays: National Building Museum

(Story)

Jun 30, 2015

Homework Expectations Committee sets standards of homework for the 2015-2016 school year

(Story)

Jun 16, 2015

"The Whispers" proves to have a surprisingly in-depth plotline

(Story)

Jun 13, 2015

Jefferson holds annual J-Day event

(Story/Media)

Jun 08, 2015

TJ On: "Call Me Caitlyn"

(Story)

May 31, 2015

Musician profile: Jack Fang graduates after 13 years of playing piano for his mother

(Story)

May 16, 2015

Jefferson's Junior Varsity Girls Lacrosse team plays last game of the season and looks forward to the upcoming seasons

(Story)

May 07, 2015

TJ On: FCPS Budget Cuts

(Story)

Apr 12, 2015

Inventor profile: Lakmazaheri is selected to participate in the 2015 International Science Fair

(Story)

Mar 28, 2015

Team Russia proves victorious at this year's annual international volleyball game

(Story)

Mar 02, 2015

'The Voice' sets up an interesting dynamic for the new season

(Story)

Feb 27, 2015

"The Dress" controversy is solved once and for all

(Story)

Feb 25, 2015

TJSD excels at State Championships

(Story)

Feb 15, 2015

Drake's surprise mixtape fails to match up to his past albums

(Story)

Feb 03, 2015

Ranking the Ads: Super Bowl commercials provide laughs and pull heart-strings

(Story)

Jan 28, 2015

TJSD reflects on season after senior night and looks to the future post-season

(Story)

Jan 23, 2015

Orchestra Performs Winter Concert Despite Inclement Weather

(Story)

Jan 07, 2015

'The Mindy Project' fails to impress with mid-season premiere

(Story)

Jan 07, 2015

The mid-season premiere of 'Pretty Little Liars' leaves doubt about who "A" is once again

(Story)

Jan 05, 2015

Predicting snow days by algorithm: How reliable is it?

(Story)

Jan 05, 2015

Wrapping Up Winter Break

(Story)

Jan 04, 2015

Students react to new terms and conditions for eighth period

(Story)

Jan 04, 2015

Top 14 of 2014: Songs

(Story)

Dec 20, 2014

German Honor Society hosts annual gingerbread house making event

(Story)

Nov 25, 2014

Mockingjay – Part 1 does not fail to impress

(Story)

Nov 03, 2014

Many political ads are too extreme

(Story)

Oct 26, 2014

Jefferson students are asked to play for All-American Marching Band

(Story)

Oct 20, 2014

Eighth period detentions are too harsh

(Story)

Oct 05, 2014

Manchoir holds its auditions

(Story/Media)

Sep 28, 2014

Jefferson faces defeat in Homecoming game against Marshall

(Story)

Sep 28, 2014

Homecoming Week: Friday

(Media)

Sep 19, 2014

Homecoming Asking Week 2014: Friday

(Story)

Sep 18, 2014

Homecoming Asking Week 2014: Thursday

(Story)

Sep 17, 2014

Homecoming Asking Week 2014: Wednesday

(Story)

Sep 16, 2014

Homecoming Asking Week 2014: Monday and Tuesday

(Story)

Sep 10, 2014
Sep 06, 2014

Ariana Grande debuts a 'grande' new album

(Story)

Feb 28, 2014

Korean Culture Club preps to perform with fans

(Story)

Feb 26, 2014

Chinese Honor Society finishes I-Nite rehearsals

(Story)

Jan 12, 2014

Japanese Honor Society prepares for I-Nite

(Story)