Staycation Sundays: National Building Museum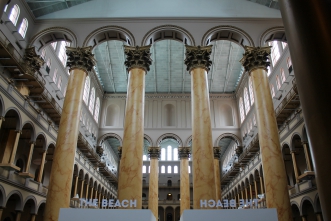 If your summer looks anything like mine, you're probably slaving away at your internship, volunteer work, job, or summer school on the weekdays. Long hours and long weeks–just like school.
When you're not busy doing work, you're lounging on your couch with a bowl of mint chocolate chip ice cream and your laptop on your lap, watching Netflix for hours on end. My personal binge watch show on Netflix right now is Grey's Anatomy. Who knew a medical drama could be so addicting? But that's not the point.
The point is every year I make a to-do list at the beginning of summer. Things to do, places to go, people to see. Okay, not really the last one, but the sentence sounded incomplete without it.
Unfortunately, with the plethora of things to do on the weekdays, the only available time left seems to be the weekends. Leaving the Northern Virginia/DC area almost seems impossible when the weekend is the only free time you have, where right off the bat visiting any other state or country is no longer an option.
If everything I've said so far sounds like you, never fear. Just like many of your fellow Jefferson classmates, we are stuck at home. But being stuck in Northern Virginia is not really such a bad thing. Within close proximity, there are so many things we can do and places you might not have ever thought of visiting until now.
1. National Building Museum
One of the coolest new finds I found this summer is the National Building Museum. Honestly, before Class of 2015 had their prom at the museum, I didn't even know it existed. A museum filled with building replicas and exhibits didn't exactly sound like my idea of a good time.
Fortunately, I was lured to the National Building Museum by a new exhibit called the BEACH. The exhibit, which opened on July 4 and will discontinue on September 7, covers 10,000 square feet of recyclable translucent plastic balls. Yes, it's exactly what it sounds like– a giant adult ball pit. I'm sure you won't be surprised to find out that when I first heard about it, I could hardly hold in my excitement.
The exhibit was created in partnership with Snarkitecture, a practice balancing art and architecture, and is located in the Museum's Great Hall. The first and biggest thing that catches your eye when you first walk into the Building Museum is this exhibit. 'THE BEACH' is written on two sides of the entrance in all white, an aesthetic that works extremely well with the whole design.
I was pleasantly surprised by the BEACH. I had high expectations for a fun day going in, but I didn't realize how well thought out the exhibit would be until I was there. Along with the big ball pit, the floor was covered with a sand-esque material that allowed for your toes to just barely sink in. To complete the beach theme, there was also an area with beach lounge chairs and a small Union Kitchen snack bar for refreshments.
I think what's truly unique about the BEACH is that it's an interactive exhibit. Even for people who don't typically enjoy lurking around museums, the BEACH is a great choice in destination for summer 2015.
Although I only visited the National Building Museum for the new exhibit, I ended up walking through the entire museum and was surprised to find myself so interested and immersed into the building designs.
One of my personal favorite exhibits was called HOT TO COLD: an odyssey of architectural adaptation. Upon entering the second floor, I could see models suspended from the balconies all around the museum. HOT TO COLD takes visitors from the hottest to coldest parts in the world and shows the different designs and materials used in each climate.
Each model was a direct scaled down replica of all the buildings it represented, made from materials ranging from white foam to wood. The careful craftsmanship in every model was truly fascinating. I didn't just go around the world in 80 days, I walked around the world in 80 minutes.
While many museums I have explored focus on content for more mature persons and are often times draining to visit, the National Building Museum can really be an enjoyable experience for the whole family. The exhibits inside are so unique and distinguished from each other that there is no way you can walk into the museum and be bored. And if you don't like the exhibits when you visit, you can always visit in a couple of months for new exhibits. The steady cycle of trashing old exhibits and creating new ones makes for a constant influx of interesting finds. While I only came for the BEACH, I am certainly glad I did and will definitely be coming back for new exhibits in the future.