German Honor Society hosts annual gingerbread house making event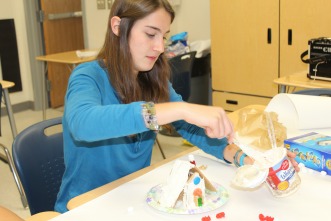 Kate Deng, Entertainment Editor
December 20, 2014
On Wednesday, Dec. 17, German Honor Society (GHS) hosted their annual gingerbread house making special event during 8th period.
In Germany, gingerbread house making is a traditional event that brings together friends and family. Although it is not historically linked to Christmas, GHS usually hosts the event around Christmas, and this year it happened to be the week before winter break.
Even though this is usually a fun event, it did not come without any implications.
"The most challenging part about hosting this event was collecting and managing the supplies," president and senior Peter Zablocki said. "This year we did not charge and therefore most of the supplies came from donations made by GHS members."
Despite the challenge, the gingerbread house making special was definitely a success. Over 120 students came together to prepare and celebrate the holiday season.
"My favorite part of the event is definitely the building competition," Zablocki said. "Every year we give a prize to both the tallest and best gingerbread houses. It's pretty cool seeing people get really into it and creative with their ideas."
The event was also extremely well timed—in between a stressful final week of school before winter break. It helped reduce stress to a lot of festive students.
"The gingerbread house making competition was nice because along with bringing people together, it definitely made us less stressed and excited for the holiday season during a very stressful week," junior Chantal Iosso said.