Team Russia proves victorious at this year's annual international volleyball game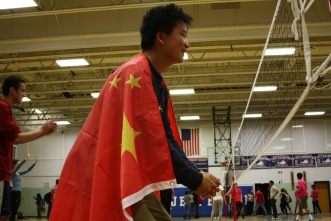 Kate Deng, Entertainment Editor
March 28, 2015
On Friday, March 27, all the World Languages (including French, German, Latin, Russian, Spanish, Chinese, and Japanese) participated in the annual International Volleyball game. Inspired by March Madness, the World Language game brings all of Jefferson's diverse languages head-to-head in a friendly competition.
After last year's victory, team China was determined to win again, and was on a good streak after winning against team Russia in their first game. Even so, team Russia ended up the victors, after many striking defeats.
"Before the game, we cheered 'Glory to Russia, Glory to Putin,' to pump ourselves up," senior and Russian student Matt Gibbs said. "Because there is a competition to be the best language, it felt amazing to assert ourselves as the dominant force."
Although there was no in-school preparation, some students took the liberty of practicing out of school.
"Before the game, I practiced bumping and setting at home in my spare time," junior and Chinese student Sophie Zhao said. "I thought that this event was fun because it gave me an opportunity to play a sport that I don't usually play very often."
Despite only having one victor, all languages had a sense of nationalism for their individual languages, without undermining other languages. Teams showed spirit through personalized t-shirts, chants, and cheers from the audience. It was an intense, but friendly battle that made participation in languages even more exciting.
"Even though French didn't win, I thought the volleyball game was extremely fun because it gave us all a sense of pride for our languages," junior and French student Rushi Shah said. "I had a lot of fun playing with my fellow French classmates.