Ariana Grande debuts a 'grande' new album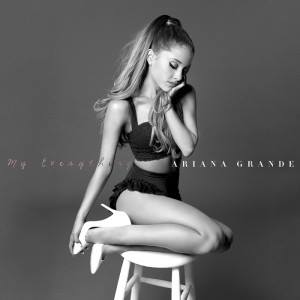 Kate Deng, Entertainment Editor
September 6, 2014
It is present in Ariana Grande's latest album, "My Everything" that she has grown and matured as a singer since her first studio album, "Yours Truly," released in 2013. Grande's trademark of upbeat music and extraordinary vocal range has not been disrupted in her latest release, while also showing a new side of Grande that listeners have never seen before. Arianators—Grande's fans—will not be disappointed.
Since the release of "Yours Truly," Grande has been busily working on what she calls "an evolution" since her first album, showing a whole new side of Grande's vocal abilities. "My Everything" has debuted at number one on the Billboard 200 charts last week, giving Grande her second number one in less than a year.
The new album features hit singles such as "Problem" featuring Australian rapper, Iggy Azalea, and "Break Free" featuring musician Zedd, which premiered before the debut of "My Everything." Along with that, it also introduces 10 new songs, including an intro song, which Grande has never done in the past.
Although Grande's stunning vocals are still present in her new album, she has definitely gone outside her comfort zone in some of her songs. She attempts to bring an edgier sound and covers a larger genre than her earlier album, while still keeping the purity and softness of her voice.
Standout song "Best Mistake" featuring Big Sean contained a catchy beat with a deeper tone than Grande listeners are used to. Even with the octave change, Grande's unique singing style and voice was never lost in the song.
Many of the songs in "My Everything," such as "One More Time," "Why Try" and "Best Mistake," contain deeper vocals than Grande has shown in old tracks. Grande succeeded in making her transition smooth and still enjoyable, showing off more of her alto vocals in a flattering way.
The downfall of her album was "Hands On Me" featuring A$AP Ferg, which was a complete shift in dynamic from the other 11 songs and was proven very risky. This was, by far, the most avant-garde song, but I felt like the song did not suit Grande at all with it's hip-hop beat. It reminded me of edgier artists such as Vanessa Hudgens or Selena Gomez.
On the complete other end of the spectrum, the next and final song in this album list, "My Everything," shows off the raw and natural talent of Grande that is far more familiar to avid Grande listeners. The sweet song shows off her high and light soprano range that all Arianators have come to love.
Despite Grande's risky choice of deeper vocals, she did a great job of intertwining the old and new styles of Grande. Nothing seemed like a repeat of her old albums, although some songs more similar than others, but not much strayed so far from Grande's style that it seemed like it was no longer Grande. Grande's maturity in vocal style has definitely proven successful in "My Everything".