Manchoir holds its auditions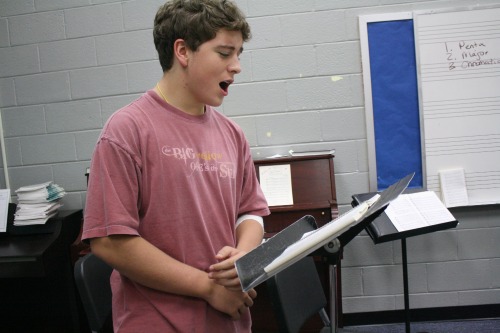 Kate Deng, Entertainment Editor
October 5, 2014
On Oct. 3, Manchoir auditions took place in the music wing during A block of eighth period. With a populous of only about 20 students per year, Manchoir is a small but close-knit group of men who all share the same passion in singing.
"My favorite thing about Manchoir is that no matter who you are or how long you've been at manchoir, they treat you like you're a member and like you're part of the Manchoir family," sophomore Matthew Heninger said.
This past Friday, four eligible auditionees went through the audition process. Because of the loss of six seniors in the Class of 2013, it was important to replace those singers with equally as talented men. However, meeting the quota was not an issue, for many students lined up to audition for Manchoir.
"There a lot of interested freshmen, but everyone is welcomed to join. In years past, seniors have been given seniority but there are a lot of open positions this year so that shouldn't be an issue," Heninger said.
During the audition process, everyone was required to prepare a song of their choice, sight read sheet music and perform scales to test their ranges. At the end, leader and senior Noah Shin sang pitches, and the auditionee was asked to match his pitch.
Unlike the past years, however, this year, returning manchoir members were not required to audition, due to the large loss in seniors.
Along with their usual annual winter concert, Sing Strong, International Night (I-Nite) and spring concert performances, Manchoir hopes to add more performances to the school year.
"If I do get in, I think Manchoir will be a fun experience and I am excited to be able to sing with my friends," junior Aidan San said.