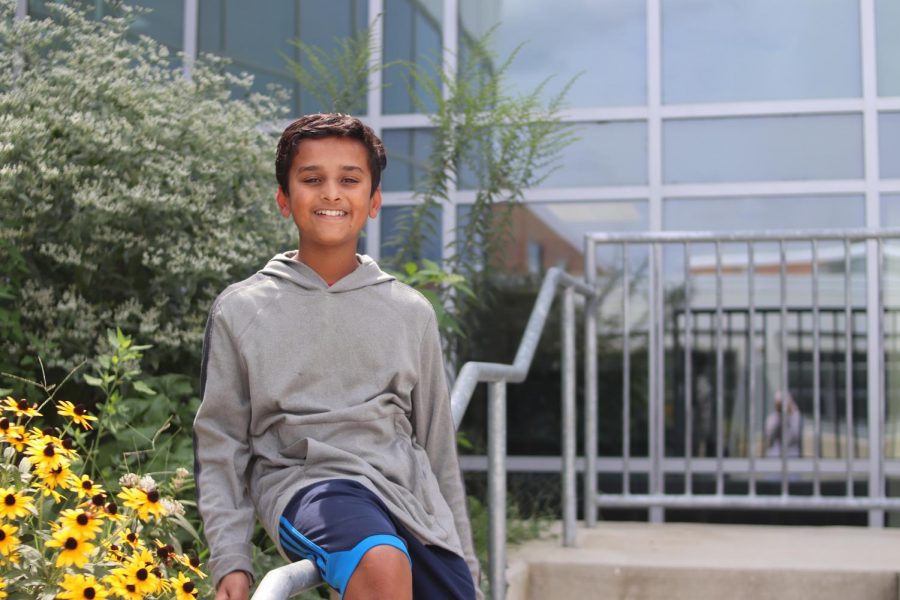 How many fifth graders do you know that have published their own book? Probably not a lot. This is just one of many things that makes Anuj Khemka special. He wrote his own book called "The Warrior" when he was only 10 and published it on Amazon. His book follows a boy's adventure during the Ice Age as he explores the world on his own. The world the boy lives in is a world with magic, similar to the magic in his favorite book series, Harry Potter.
Of all the amazing wizards in Harry Potter, Khemka's favorite character is an unpopular choice: Voldemort.
"He's evil in a way that makes you laugh at him," Khemka said. "[He's] not my favorite character because I like him as a person, but like I think in the book and the movies he's funny in a way that his stupidity prevents him from gaining all the power that he could have so that's what makes him my favorite. "
Khemka's love for reading and writing led him to take journalism this year. He is currently a staff writer for tjTODAY, and plans to continue to be a part of the team throughout his time in high school.
Only a freshman, Khemka is still unsure of what he wants to study in college or pursue as a career. He knows that he loves writing and his favorite subjects are History and Geography, and he will see where that takes him in the future.
Anuj Khemka, Online Editor-in-Chief
Jan 21, 2021

Top 10 of 2020: Sports moments

(Story)

Dec 18, 2020

FCPS School Board passes holistic review system for Jefferson admissions

(Story)

Jun 23, 2020

Making of the mark

(Story)

May 29, 2020

"The LoveBirds" review: Kept in flight by its lead actors' comedic chemistry 

(Story)

Apr 05, 2020
Mar 20, 2020

Spring sports face a lack of clarity over suspended season

(Story)

Jan 10, 2020

Top 9 of 2019: Hit Pop Songs

(Story)

Dec 25, 2019

Winter Spirit Week: Photo Gallery

(Story/Media)

Dec 18, 2019
Dec 16, 2019

To lock or not to lock?

(Media)

Sep 24, 2019

News Brief: Varsity Football Beats FCA Bucks 36-16

(Story)

Sep 18, 2019
Aug 27, 2019

Football Team fields Varsity and JV teams

(Story)

May 16, 2019

Boys Varsity Lacrosse Contests District Championship But Falls to Marshall

(Story)

May 04, 2019

TJ Choir Puts Together Performance of the 25th Annual Putnam County Spelling Bee

(Story)

Apr 15, 2019

German Honors Society Hosts Cafe

(Story)

Apr 03, 2019

Indoor Guard/Drumline Performance Photo Gallery

(Story/Media)

Mar 31, 2019

Neuroscience Society Sheep Dissection Photo Gallery

(Story/Media)

Mar 30, 2019

Arlington Students May Have to Pay For Buses Beginning in the 2019-20 School Year

(Story)

Mar 10, 2019

Academy Award-Winning Documentary Free Solo is Captivating, Nerve-wracking, and Thoughtful to the Core

(Story)

Mar 02, 2019

TJ Minds Matter Holds Kindness Pizza Extravaganza

(Story)

Feb 23, 2019
Feb 17, 2019

More than just a joke

(Story)

Feb 10, 2019

Young Democrats and Teenage Republicans Hold Voter Registration Drive

(Story)

Jan 28, 2019

Jefferson Swim Dive Teams Win District Championships

(Story)

Jan 26, 2019

My Newfound Appreciation for Foreign Pop, Explained

(Story)

Jan 18, 2019

Winter Weather Driving Hacks

(Media)

Jan 09, 2019

Top 8 of 2018: USA Olympic Moments

(Story)

Dec 19, 2018
Dec 05, 2018

Constructed Languages in Entertainment

(Story)

Nov 28, 2018

Jefferson alumni and writer Hannah Bae shares experiences with students

(Story)

Nov 07, 2018

Bringing About Justice for Jamal Khashoggi

(Story)

Oct 31, 2018

Colonials Dominate Senior Night Football Game: Game Recap

(Story)

Oct 24, 2018

Varsity Football Team Loses to Justice Wolverines: Game Recap

(Story)

Oct 17, 2018

Colonials Win Homecoming Football Game in Double Overtime

(Story/Media)

Oct 09, 2018

German Honors Society Holds Oktoberfest Celebration

(Story)

Oct 02, 2018

Colonials Lose Back To School Bash Football Game to Lee High School Lancers

(Story/Media)

Feb 06, 2016