Making of the mark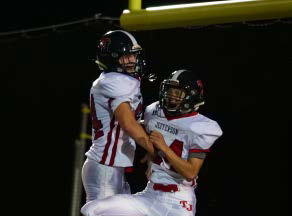 6-0. Jefferson trails back at their 19 yard line, with time running out. Quarterback Sihun Kim takes the snap. He pivots right and the ball flies out of his hand, traveling downfield.
20 yards feels like 20 hours, and suddenly, as the crowd holds its collective breath, #24 rises over the obstacle of blue. He plucks the ball out of the air, swivels around, and it's off to the races.
A red blur flashes down the sideline, going from the 50 yard line to the 30, and then, touchdown.
Most first year players aren't known for making an immediate impact, but most rookies aren't senior Mark Hamilton (24). From scoring the game winning touchdown for Jefferson's first National District win in 10 years to totaling 27 points, Hamilton has provided a spark for the Colonials football team.  In the process, they've matched last year's record two-win total through just four games.
Role of Soccer
Despite playing football recreationally with his brothers, Hamilton stayed away from Jefferson football until now due to his commitment to varsity soccer, on which he plays as a central midfielder.
"I didn't have time to play football when I was in my first three years, but this fall, I decided to just play football because I really wanted to and it's my last chance to play football," Hamilton said. "And I made a good decision."
Although soccer prevented Hamilton from playing football his last three years, Hamilton also credits it as one of the factors responsible for his success.
"Soccer helped me build up my endurance, so that's a big part. Just playing soccer made me a good athlete, which helped me a lot when playing football," Hamilton said. "Being fast [also] really helps me be a good player. Also, going to all the practices is really important to understand what's going on, both offensively and defensively."
In addition to his success at wide receiver, Hamilton has also helped the team at kicker and punter, scoring 14 points with his foot and averaging 24.5 yards per punt. His experience with soccer has helped him in this area.
"Kicking a football is kind of similar to kicking a soccer ball," Hamilton said."There's some difference, but playing soccer has helped me be a good kicker and punter."
Hamilton did have to make several adjustments as well try out to be the team's kicker, however.
"My brother is also a kicker and punter — he went to Langley, and over the summer, he taught me a lot of technique and habit for kicking footballs," Hamilton said, "[Then], when I first joined the team, I told the coach that I wanted to be a kicker, but I could also play other positions, so the coach knew I could kick. But there's another guy who also plays soccer, and he can kick well too, so during practices, we both kicked and Coach decided he wanted me to be kicker."
Continued Success
Now, Hamilton reflects on the joy of scoring to help his team win.
"[When I score a touchdown] I'm just really happy.  Last game, my first touchdown, when I scored, I thought it was just another catch," Hamilton said. "But I realized when I looked in the stands that everyone was celebrating, and I just realized that it's pretty cool that other people are happy for what I accomplished. And it's a pretty good feeling."
Nonetheless, Hamilton stresses that although he has accounted for approximately 40% of the team's points, every player has an integral role.
"I'm not really that special compared to everyone else.  Everyone works hard and contributes a lot to the team. It might seem that since I scored the most touchdowns, that I'm the best player, but that's not true," Hamilton said. "There's a lot of things that I need to work on, and it's a team sport, and we need everyone to contribute or to play well."
And just like every other player, Hamilton has encountered a number of struggles that come with being on the team, including the intensity of practices.
"The practices [are the hardest part of being on the football team]. During the summer, practices are really hard. We had two days, and two practices a day, and by the second practice, I was just really tired," Hamilton said. "Also, I'm not used to having practice after school because soccer team practices are before school. During football practices, I'm more tired than I would be before school. It's not too big of a challenge, but it's still there."
However, despite the difficulty, Hamilton realizes that he would not be where he is now without the work put in during practices.
"I'm a lot less experienced than everyone else, but I've learned a lot since August, since practice started. It's kind of cool to think that two months ago, I never played football before, and I'm here now playing well — it's pretty cool."