Arlington students' access to Jefferson once again in jeopardy
As part of his proposed budget for the 2022 Arlington Public Schools (APS) fiscal year, Superintendent Francisco Dúran has suggested cutting funding for Arlington students to attend Jefferson. Should the proposed cut pass, current Arlington students at Jefferson will be allowed to remain, but all future classes—including this year's rising 9th graders—will be barred from attending the school. 
In total, Arlington pays an estimated $290,000 per year for students to attend Jefferson. The proposed removal of this cost is one of a long list of suggested cuts to overcome the $42.5 million budget gap currently facing the School Board.
"It's not something that we want to do, but in a time of budget cuts, the [Arlington] kids who [would have gone to] Jefferson can still receive a free and appropriate public school education," Tyrone Byrd, APS Director of Secondary Education, said. "We have some very capable educators that we think can help those students reach for the stars."
However, junior Alexandra Fall, one of 25 Arlington students admitted to the Class of 2022, says that the Jefferson experience is incomparable to anything that Arlington offers.
"
In a time of budget cuts, the [Arlington] kids who [would have gone to] Jefferson can still receive a free and appropriate public school education."
— Tyrone Byrd
"Everybody knows that [APS has] great test scores, and a great environment. Jefferson is not about that. Jefferson is about being very specialized. Finding a place at Jefferson is an entirely different experience, and it gives you access to a community of people that Arlington just doesn't have," Fall said. 
Over the next month-and-a-half, the Arlington School Board will hold work sessions and public hearings as they develop a final budget based on Dúran's initial proposals. A final vote on the revised budget will then take place in early May. 
"The cuts are suggestions that the Superintendent has proposed if Arlington Public Schools cannot find additional revenue to close a $42.5M budget gap or if we can't make sufficient expenditure cuts elsewhere," School Board Chairman Reid Goldstein said. "The School Board will have the option of accepting any combination of his suggested cuts, others that he has not suggested, or none."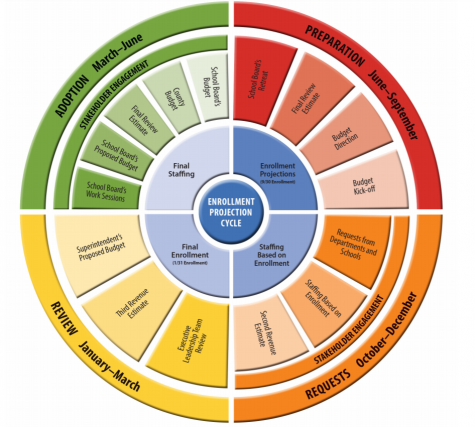 With the first public hearing on the proposed budget set for March 23, APS officials, students, and parents alike will now begin preparing for the testy deliberations soon to take place. 
"There's going to be strong debate on each of the issues and their merit will be considered and proposed by many folks, so we're hopeful of getting input from a vast array of citizens, including our educators and our students," Byrd said. "We try to look at everything through a lens of equity." 
The 2022 fiscal year proposed budget is not the first example of Arlington threatening to sever or limit access to Jefferson for its students. Most recently, in 2019, former Superintendent Patrick Murphy suggested requiring Jefferson families to cover the cost of bus transportation on their own. The proposal, however, was shut down after weeks of testimonies from students and parents urging against the measure. 
This time, in search of a similar outcome, Fall will work with other Jefferson students from Arlington to advocate against cutting funding.
"I'm going to go to the school board and talk to them," Fall said. "I'm going to bring in the personal testimonies I've gathered to tell them how much Jefferson means to all of the Arlington students that attend and hopefully convince them to let other students have the amazing experience I've had."
Leave a Comment