Jefferson students hold walkout to protest gun violence
Over 400 Jefferson students attended a walkout on Friday, May 27 to protest gun violence in light of the deadly shooting at Robb Elementary school in Uvalde, Texas on Tuesday, May 24.
The walkout began with a march from the dome to the football stadium as students chanted phrases including "Enough is enough."
 To commemorate the people killed in the shooting, students introduced the nineteen students and two teachers killed during the shooting,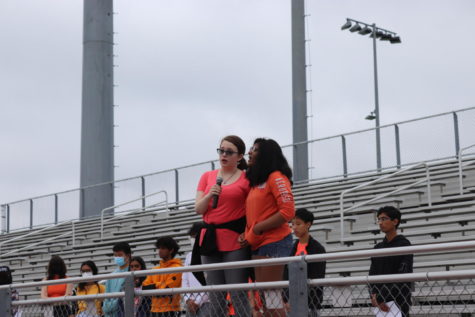 followed by a five minute moment of silence, and a performance of "Amazing Grace" by senior Jay Abraham and junior Hannah Frieden. 
"It's just honoring the lives that were lost," Abraham said. "As much as taking action is really important to prevent this from happening again. It's also important to remember the lives that were lost, remember them as people."
The protest later included speeches by multiple students and time for all participants to contact local legislators with the goal to persuade them to take action on the issue. Student Government Association (SGA) provided a link with email and phone call templates, as well as contact information for all Virginia representatives. 
"Nobody's doing anything," freshman Fertuna Mequennent said. "None of the government officials are using their power to actually help this crisis. It happens, they talk about it on social media, it's over, and it happens again. Do something."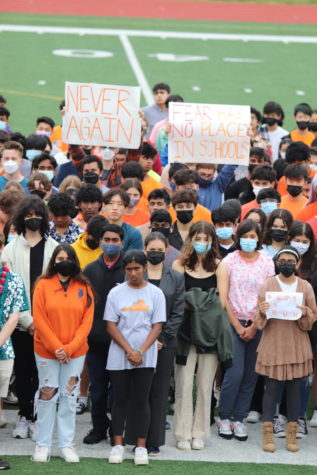 Gun violence in schools has been an issue for many years, with over 400 school shootings in the United States within the past ten years, and a total of 27 school shootings in just the first five months of 2022.  
"I don't want to get shot to death in school," freshman Alex Mather said. "As one person, my contribution is very small, [but] this isn't the kind of thing you can't attend."
Students attended the walkout for different reasons, ranging from passion about gun violence to politics to empathy for the victims and survivors of recent school shootings. 
"I am very passionate about gun violence, and I think it's something that a lot of people undermine, especially adults," sophomore Sophie Keating said. "Any type of awareness is really good, and this just shows the masses of people that care about it. And it's moving because you can see that you're not alone and there are people that support you." 
Ultimately, the walkout was meant to remind students of their ability to foster change and encourage them to take action against issues they care about, both now and in the future. 
"These guys are going to be going out into the world in two, three, four years, some of them are going to positions where they can make change happen," junior and Student Government Association (SGA) secretary Rushil Umaretiya said. "This will be a memory for them. This will be something that they look back on and say, 'Hey, I fought for this cause. I skipped class to come out and join everyone else in unity against obvious evil.'"