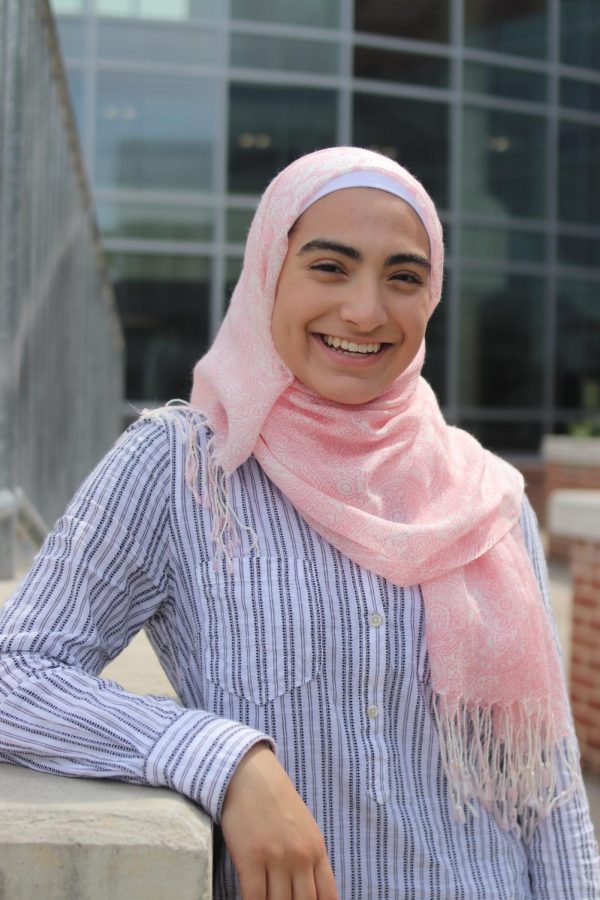 With roots in the farmlands of Tennessee, Bangladesh, Iraq, and Pakistan, Sabria Kazmi was born with diversity in her blood. Diversity, in everything from her cultural knowledge to her hobbies and interests, has been a signature trait of Kazmi's ever since.
Kazmi is the vice president of the Muslim Student Association and the co-president of the Russian Honors Society, called "Slava." Further activities that Kazmi is involved in at school include her roles as Senator for the 2019 Class Council, and, of course, Co-Editor-in-Chief of tjTODAY.
Kazmi, currently a senior, wishes to double major in Computer Science and Russian, work in cybersecurity, and eventually teach, which has always been a passion of hers. Outside of school, Kazmi enjoys binge-watching "Friends" -- she's walked each episode at least three times --- and climbing trees.
"In first grade," Kazmi said, "I forgot that when you're at the top of the tree it can sway sometimes. I [felt] the tree moving and I [yelled], "The tree is falling!" and I [jumped] off the tree. As I was falling down the tree, a branch cut my leg and I had to get 10 stitches."
Now, however, as Sabria Kazmi climbs persistently to new heights, even as the branches below her begin to sway, she likely won't be jumping down anytime soon.
Sabria Kazmi, Editor-in-Chief
Aug 20, 2019

Esports come to VHSL

(Media)

Mar 15, 2019

Aiming for Liftoff

(Story)

Feb 25, 2019

Police Activity Causes School Authorities to Secure the Building

(Story)

Feb 13, 2019

Changing the Game

(Story)

Jan 11, 2019

Top 8 Trends of 2018

(Story)

Nov 30, 2018

The Rise of Instagram

(Story)

Oct 30, 2018
Sep 13, 2018

The College Coding Complication

(Story)

Sep 05, 2018
Sep 05, 2018

Volleyball photo gallery

(Story/Media)

Aug 29, 2018

Assistant Principal Gary Grosicki passes away

(Story/Media)

Aug 26, 2017

Friends who stick together

(Story)

May 22, 2017

TJTV News, Episode 25: May 15, 2017

(Story)

Jan 06, 2017

Top 16 of 2016: Food

(Story)

Nov 29, 2016

One "Year in the Life" after years of anticipation

(Story)

Oct 26, 2016

Volleyball senior night photo gallery

(Story/Media)

Oct 20, 2016

Did homecoming hit home?

(Story)

Oct 08, 2016

Are anchor days weighing us down?

(Story)

Sep 29, 2016

Jefferson vs. Edison Football Game Gallery

(Story)

Sep 26, 2016

13 Really is Unlucky

(Story)

Sep 06, 2016

Top Five Benefits to Starting School

(Story)

Sep 05, 2016

When in London: London Eye

(Story/Media)

Sep 04, 2016

When in London: Tower of London

(Story/Media)

Sep 01, 2016

When in London: The London Dungeon

(Story)

Jun 21, 2016

The Jefferson Physics Team has a successful year

(Story)

Jun 06, 2016

I'm a Freshman, Not a Star: Five confusing thoughts I had during tjSTAR

(Story)

May 27, 2016

Mapped Opinions of Trump Around the World

(Story)

May 12, 2016

Opinions on Donald Trump from around the world

(Story)

May 09, 2016

Freshman Lockout Photo Gallery

(Story)

May 03, 2016

SAC and SGA Election Speeches

(Story)

Apr 24, 2016

Child Science Advisor to the White House

(Story)

Apr 10, 2016

Set the (Rubik's Cube) Record Straight

(Story)

Feb 29, 2016

To Skip or Not To Skip?

(Story)

Feb 28, 2016

Finding my Passion of the Pen

(Story)

Feb 15, 2016

Photo Gallery: Dance Team Senior Night

(Story/Media)

Jan 22, 2016

There's s(No)w School

(Story/Media)

Jan 11, 2016

A new period for the periodic table

(Story)

Jan 02, 2016

Top 15 of 2015: Women

(Story)

Dec 21, 2015

"The Force Awakens" is the Star Wars movie you've been waiting for

(Story)

Dec 01, 2015

#TJHSSTBySnoop: Get the Snoop on TJ's latest hashtag

(Story)

Nov 23, 2015

Will Panem stay Snowed Under?

(Story)

Nov 16, 2015

Chemistry demonstration causes FCPS to implement "no flame" rule

(Story)

Nov 05, 2015

Back to the Future day and where we're going

(Story)