Top 8 Trends of 2018
1) thank u, next
Ariana Grande's song and music video "thank u, next" was not only a huge hit but also a fun twitter trend at the end of the year. People starting tweeting it referring to their exes or fictional couples, or simply using it as a caption for pictures. Even Ari herself joined in by tweeting about McDreamy and Meredith (a fictional Grey's Anatomy couple).
— Ariana Grande (@ArianaGrande) November 16, 2018
2) The "In My Feelings" challenge
Thank you Drake for this fun but slightly dangerous challenge. After his release of Scorpion in the summer, the "In My Feelings" dance challenge started. The challenge involves playing the song, getting out of a moving car, and dancing with the door open as someone continues to drive the car. There were many dance variations, but this dog's version is my absolute favorite.
Everyone's doing the kiki challenge so I might as well do it too, I'll show them all who do it best! 🐶😙 pic.twitter.com/FXAAm99cj1

— puppie🐕 (@activepuppie) October 1, 2018
3) Wakanda forever
This was less of a Twitter trend and more of popular hand signal, but it definitely deserves to be on the list. Black Panther was one of the best movies from 2018 and broke multiple box office records. Though the trend started in 2018, I don't think we'll ever let it go… because "Wakanda forever."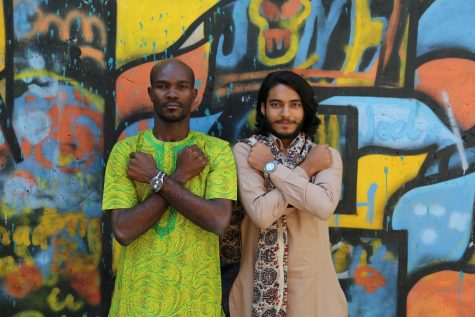 4) Weird flex but ok
This popular phrase started trending on Twitter and now I even hear people saying it in person. I can't blame them, the phrase is so versatile. Someone starts telling you a personal story you don't find amusing? "Weird flex but ok." A public official says something you find ridiculous? "Weird flex but ok." A stranger tells you TMI? "Weird flex but ok."
Weird flex but ok https://t.co/jM1zImIkjp

— art boy (@ka5sh) September 21, 2018
5) "Don't say it, don't say it, don't say it"
These are some of the most accurate tweets I've seen. The "don't say it, don't say it…" is what people tell themselves right before they say something foolish. I love these tweets because even though they're almost always someone making fun of themselves, so many people relate.
*bumps into something that doesn't hurt*

my brain:
don't say it
don't say it
don't say it
don't say it
don't say it
don't say it
don't say it
don't say it

me: "ouch"

— jarrett (@jarrettstod) November 16, 2018
6) Shaking hands tweet
The "shaking hands" trend proves you can find common ground between almost any two people, or things for that matter. Taylor Swift and Voldemort, trains and people, or guys at the gym and girls at the salon, all have something in common. Read some of my favorite "shaking hands" tweets to find out.
guys at girls at the
the gym nail salon
🤝
"good set"

— i think coolsville sucks (@ryleeannexoxo) November 5, 2018
trains in nyc me

🤝
not running

— olivia pope (@chynacassell) November 5, 2018
Taylor Swift Lord Voldemort
🤝
will leave you breathless or with a nasty scar

— Erin (@inagetawaybar) November 1, 2018
7) Flipped the switch videos
It's been a good year for Drake challenges. This trend is also based on a Scorpion song, this time using "Nonstop." In the song, Drake says the lyric "I just flipped the switch." It turned into a meme for people to show how they also "change" with the flip of a switch.
8) Astronomical flex
Not to be confused with the previous "weird flex but ok," this trend is based on the rising popularity of airpods. At the end of the year as more people bought the popular Apple wireless headphones they began posting screenshots of their phones that show their airpods were connected. The term can also be used for any large boast (not involving airpods) though.
this flex is astronomical https://t.co/TeSgkKbpQZ

— 𝔰𝔥𝔦𝔯𝔩𝔢𝔢𝔫 (@litdesu) January 1, 2019
(SPECIAL) Worst Trend: Eating tide pods
Somehow earlier this year people starting thinking eating tide pods would be a fun thing. They were wrong. People have actually died from digesting them. I felt this needed to be included to remind people just how ridiculous some trends are. Tweeting "thank u, next" is one thing, eating a tide pod is a whole other thing, and I am not here for it. Let's leave the laundry detergent eating in 2018, please.