German Honors Society Holds Oktoberfest Celebration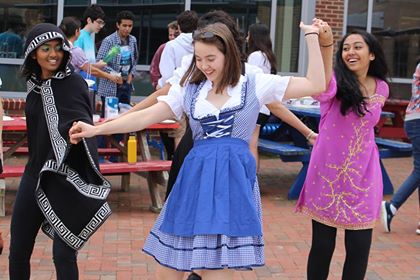 The TJ German Honors Society (GHS) hosted an Oktoberfest celebration open to the entire school Friday A and B blocks. The celebration took place in the courtyard by the amphitheatre.
The gathering was attended by both German and non-German students, and offered an opportunity for everyone, including those not in the German program, to engage in aspects of the German culture.
"Culturally, we would like to make the entire TJ community aware of a very vibrant German program here and some students like to celebrate German culture but are not able to be in the German program, so it's a good thing that we make this Oktoberfest celebration open and available to anybody in the community," Szilvia Osko, Jefferson's German teacher, said.
The celebration helped those in the German program to relate more with the material covered in class in a fun and interactive way.
"It helps us learn more about the culture in German and we get to connect with more of the students in German," sophomore Sathiya Gnanakumar, a German student, said.
Many students attended for the sole purpose of having a good time.
"I came here just hanging out with my friends. They have good food, and it was just a good time," sophomore Arul Nigam, a non-German student, said.
At a school where the workload can be overwhelming and stressful, the gathering offered an important retreat from the strains of TJ.
"TJ, especially the beginning of the year, can be kind of hard getting adjusted from, [and] Oktoberfest is just about celebration. We just want to have good food and good music, celebrate the New Year, and relax," senior Param Damie, GHS publicist, said.
For many students, the food was one of the largest attractions of the event, which had traditional German dishes.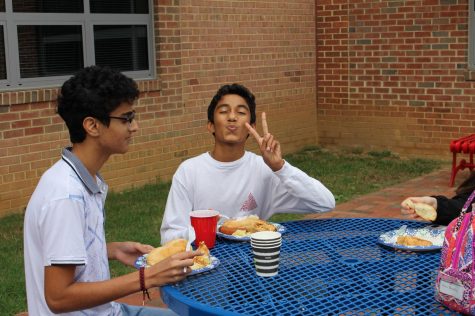 Different kinds of apfelstrudel, a puffed pastry consisting of cooked apples, were available for dessert, while sides included sauerkraut, which consists of fermented cut cabbage; spaetzle, a type of soft egg noodles; and potato salad, a staple in German cuisine.
Two types of bratwurst, a traditional German sausage, made up the main courses. Weisswurst, also known as whitewurst, was one available type. It is a variation of bratwurst that is white in color, made of minced veal and pork and flavored with parsley, lemon, ginger, and other spices and herbs. Also available was a combination of wurst, sauerkraut and potato salad.
"We assign people to bring the bratwurst because those are the most expensive items and the best tasting ones, and we want to make sure we have enough," junior Kevin Chung, a GHS member, said.
Music and dance also enhanced the liveliness of the Oktoberfest celebration.
"[The celebration playlist is] a mix of of German songs, and then the German Top 50, and a lot of the top 50 is actually English songs," senior Olivia Johansson, GHS Treasurer, said.
Oktoberfest is the world's largest folk festival. It was first celebrated in 1810 in Munich, Germany, and has continued to be celebrated around the globe in the fall ever since. The German Honors Society has held an Oktoberfest celebration at TJ for more than eight years.
"It's really cool to be able to share German culture with TJ and be able to come out here in the courtyard, being able to share a little bit of language, a little bit of food, because one aspect that's really highlighted in German culture is hospitality," Johansson said.