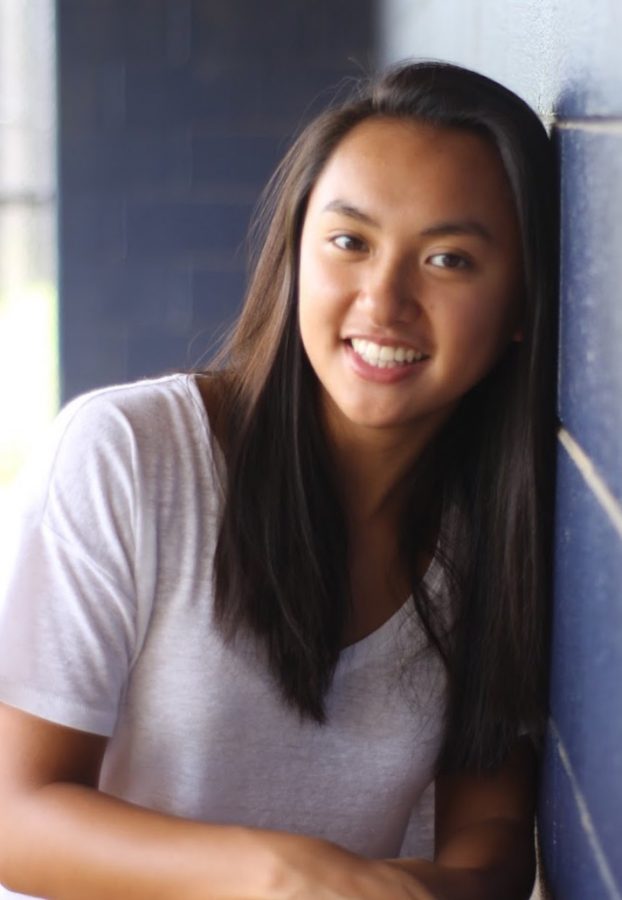 "For TJTV news, this is Lynn Nguyen, signing off."
Any TJ student from the past four years can recognize these words along with Lynn's bright face flashing across the screen for the weekly Morning Announcements. As the Broadcast Executive producer for TJTV, she records footage and edits the most iconic of morning announcements, from Homecoming to JDay. She has diligently been there for all of TJ's events, in the background, with her trusty Canon camera since freshman year.
Lynn joined TJTV after working in middle school with television production, helping discover her interest and talent in media communications. She hopes to continuously push TJTV into new frontiers, by expanding upon new ideas while maintaining quality and integrity--the most noble trait she posses.
Aside from editing and filming footage, Lynn also loves eating new and trendy foods, reading new books, watching the latest movies, and just chilling out with her friends. Lynn would love to study communications and broadcast journalism in the near future.
Lynn Nguyen, TJTV Executive Producer
Jun 03, 2019

TJTV News, Episode 86: June 3, 2019

(Story)

May 20, 2019

Taking Part in Techstravaganza

(Story)

May 20, 2019

TJTV News, Episode 85: May 20, 2019

(Story)

May 19, 2019

TJON: Memorable Teacher Moments

(Story)

May 13, 2019

TJTV News, Episode 84: May 13, 2019

(Story)

May 07, 2019

JEA/NSPA Journalism Convention 2019 – Anaheim: Vlog

(Story)

May 06, 2019

TJTV News, Episode 83: May 6, 2019

(Story)

May 06, 2019

The Purpose of Painting the Rock

(Story)

Apr 29, 2019

TJTV News, Episode 82: April 29, 2019

(Story)

Apr 29, 2019

Remembering Rome's Birthday

(Story)

Apr 22, 2019

TJTV News, Episode 81: April 22, 2019

(Story)

Apr 08, 2019

TJTV News, Episode 80: April 8, 2019

(Story)

Apr 08, 2019

TJ's Annual Talent Show

(Story)

Apr 01, 2019

TJON: Attending HackTJ

(Story)

Apr 01, 2019

TJTV News, Episode 79: April 1, 2019

(Story)

Mar 25, 2019

Orchestra's Road to Assessments

(Story)

Mar 25, 2019

TJTV News, Episode 78: March 25, 2019

(Story)

Mar 18, 2019

TJTV News, Episode 77: March 18, 2019

(Story)

Mar 18, 2019

TJON: The College Admissions Scandal

(Story)

Mar 11, 2019

TJTV News, Episode 76: March 11, 2019

(Story)

Mar 11, 2019

Ballroom Dancing at Buleria

(Story)

Mar 04, 2019

TJTV News, Episode 75: March 4, 2019

(Story)

Mar 04, 2019

TJON: The Speed of the School Year

(Story)

Feb 25, 2019

TJON: Snow Days and Their Consequences

(Story)

Feb 25, 2019

TJTV News, Episode 74: Feb. 25, 2019

(Story)

Feb 11, 2019

TJTV News, Episode 73: Feb. 11, 2019

(Story)

Feb 11, 2019

A Student-Produced Swingin' Valentine's Dance

(Story)

Jan 28, 2019

TJTV News, Episode 72: Jan. 28, 2019

(Story)

Jan 28, 2019

Experiencing the Women's March 2019

(Story)

Jan 14, 2019

TJTV News, Episode 71: Jan. 14, 2019

(Story)

Jan 14, 2019

The Perks of the College Partnership Program

(Story)

Jan 11, 2019

Top 8 of 2018: Food Trends Vlog

(Story)

Jan 07, 2019

TJTV News, Episode 70: Jan. 7, 2019

(Story)

Dec 21, 2018

TJTV Six-Word, Six-Shot Stories: After lunch in a food coma.

(Story)

Dec 21, 2018

TJTV Six-Word, Six-Shot Stories: Did that physics test go well?

(Story)

Dec 21, 2018

TJTV Six-Word, Six-Shot Stories: College apps. Want to get in…

(Story)

Dec 17, 2018

TJTV News, Episode 69: Dec. 17, 2018

(Story)

Dec 17, 2018

The Makings of SGA's Ping Pong Tournament

(Story)

Dec 10, 2018

The Simple Message of Stickers

(Story)

Dec 10, 2018

TJTV News, Episode 68: Dec. 10, 2018

(Story)

Dec 03, 2018

The Art of Expression in Poetry Out Loud

(Story)

Dec 03, 2018

TJTV News, Episode 67: Dec. 3, 2018

(Story)

Nov 26, 2018

Why Donate Blood at TJ?

(Story)

Nov 26, 2018

TJTV News, Episode 66: Nov. 26, 2018

(Story)

Nov 19, 2018

TJTV News, Episode 65: Nov. 19, 2018

(Story)

Nov 19, 2018

Wrestling: A Growing Sport at TJ

(Story)

Nov 12, 2018

TJTV News, Episode 64: Nov. 12, 2018

(Story)

Nov 12, 2018

Saudade: TJ's Original Drama Production

(Story)

Nov 02, 2018

Hispanic Heritage Month: Being Hispanic at TJ

(Story)

Oct 29, 2018

TJTV News, Episode 63: Oct. 29, 2018

(Story)

Oct 22, 2018

TJTV News, Episode 62: Oct. 22, 2018

(Story)

Oct 15, 2018

TJTV News, Episode 61: Oct. 15, 2018

(Story)

Oct 01, 2018

TJTV News, Episode 60: Oct. 1, 2018

(Story)

Sep 24, 2018

TJTV News, Episode 59: Sept. 24, 2018

(Story)

Sep 17, 2018

TJTV News, Episode 58: Sept. 17, 2018

(Story)

Sep 15, 2018

TJON: Choosing 8th Periods

(Story)

Sep 10, 2018

TJTV News, Episode 57: Sept. 10, 2018

(Story)

Sep 05, 2018
Sep 03, 2018

Fairfax County 4H Fair & Carnival – Summer Vlog

(Story)

Sep 02, 2018

Taking a win from every loss

(Media)

Aug 28, 2018

TJTV News, Episode 56: Aug. 28, 2018

(Story)

Jun 13, 2018

Instagram Story: JDay 2018

(Story)

Jun 04, 2018

TJTV News, Episode 55: Jun. 4, 2018

(Story)

May 21, 2018

TJTV News, Episode 54: May 21, 2018

(Story)

May 15, 2018

TJTV News, Episode 53: May 15, 2018

(Story)

May 07, 2018

TJTV News, Episode 52: May 7, 2018

(Story)

Apr 30, 2018

TJTV News, Episode 51: Apr. 30, 2018

(Story)

Apr 23, 2018

TJTV News, Episode 50: Apr. 23, 2018

(Story)

Apr 09, 2018

TJTV News, Episode 49: Apr. 9, 2018

(Story)

Apr 04, 2018

CSPA Journalism Convention 2018 – NYC: Vlog

(Story)

Mar 19, 2018

TJTV News, Episode 48: Mar. 19, 2018

(Story)

Mar 12, 2018

TJTV News, Episode 47: Mar. 12, 2018

(Story)

Mar 05, 2018

TJTV News, Episode 46: Mar. 5, 2018

(Story)

Feb 26, 2018

TJTV News, Episode 45: Feb. 26, 2018

(Story)

Feb 12, 2018

TJTV News, Episode 44: Feb. 12, 2018

(Story)

Feb 05, 2018

TJTV News, Episode 43: Feb. 5, 2018

(Story)

Jan 22, 2018

TJTV News, Episode 42: Jan. 22, 2018

(Story)

Jan 08, 2018

TJTV News, Episode 41: Jan. 8, 2018

(Story)

Jan 04, 2018

Top 7 of 2017: Holiday Snacks

(Story)

Dec 11, 2017

TJTV News, Episode 40: Dec. 11, 2017

(Story)

Dec 04, 2017

TJTV News, Episode 39: Dec. 4, 2017

(Story)

Nov 27, 2017

TJTV News, Episode 38: Nov. 27, 2017

(Story)

Nov 20, 2017

TJTV News, Episode 37: Nov. 20, 2017

(Story)

Nov 13, 2017

TJTV News, Episode 36: Nov. 13, 2017

(Story)

Oct 30, 2017

TJTV News, Episode 35: Oct. 30, 2017

(Story)

Oct 23, 2017

TJTV News, Episode 34: Oct. 23, 2017

(Story)

Oct 16, 2017

Snapchat Story: Homecoming Pep Rally Day 2

(Story)

Oct 16, 2017

TJTV News, Episode 33: Oct. 16, 2017

(Story)

Oct 16, 2017

Snapchat Story: Homecoming Pep Rally Day 3

(Story)

Oct 16, 2017

Snapchat Story: Homecoming Pep Rally Day 4

(Story)

Oct 06, 2017

Snapchat Story: Homecoming Pep Rally Day 1

(Story)

Oct 02, 2017

TJTV News, Episode 32: Oct. 2, 2017

(Story)

Sep 25, 2017

TJTV News, Episode 31: Sep. 25, 2017

(Story)

Sep 18, 2017

TJTV News, Episode 30: Sep. 18, 2017

(Story)

Sep 11, 2017

Back to School Bash Snapchat Story

(Story)

Sep 11, 2017

TJTV News, Episode 29: Sep. 11, 2017

(Story)

Aug 28, 2017

TJTV News, Episode 28: Aug. 28, 2017

(Story)

Aug 05, 2017

Summer To-Do List Food: The Block

(Story)

Jun 12, 2017

TJTV News, Episode 27: Jun. 12, 2017

(Story)

Jun 05, 2017

TJTV News, Episode 26: Jun. 5, 2017

(Story)

May 22, 2017

TJTV News, Episode 25: May 15, 2017

(Story)

May 15, 2017

TJTV News, Episode 24: May 15, 2017

(Story)

May 08, 2017

TJTV News, Episode 23: May 8, 2017

(Story)

May 01, 2017

TJTV News, Episode 22: May 1, 2017

(Story)

Apr 24, 2017

TJTV News, Episode 21: Apr. 24, 2017

(Story)

Apr 07, 2017

Flow Day 2017 Snapchat Story

(Story)

Apr 03, 2017

TJTV News, Episode 20: Apr. 3, 2017

(Story)

Mar 27, 2017

TJTV News, Episode 19: Mar. 27, 2017

(Story)

Mar 20, 2017

TJTV News, Episode 18: Mar. 20, 2017

(Story)

Mar 06, 2017

TJTV News, Episode 17: Mar. 6, 2017

(Story)

Feb 27, 2017

TJTV News, Episode 16: Feb. 27, 2017

(Story)

Feb 13, 2017

TJTV News, Episode 15: Feb. 13, 2017

(Story)

Jan 30, 2017

TJTV News, Episode 14: Jan. 30, 2017

(Story)

Jan 23, 2017

TJTV News, Episode 13: Jan. 23, 2017

(Story)

Jan 09, 2017

TJTV News, Episode 12: Jan. 9, 2017

(Story)

Jan 06, 2017

Smithsonian's National Zoolights Vlog

(Story)

Dec 12, 2016

TJTV News, Episode 11: Dec. 12, 2016

(Story)

Dec 05, 2016

TJTV News, Episode 10: Dec. 5, 2016

(Story)

Nov 28, 2016

TJTV News, Episode 9: Nov. 28, 2016

(Story)

Nov 21, 2016

TJTV News, Episode 8: Nov. 21, 2016

(Story)

Nov 14, 2016

TJTV News, Episode 7: Nov. 13, 2016

(Story)

Oct 31, 2016

TJTV News, Episode 6: Oct. 31, 2016

(Story)

Oct 24, 2016

TJTV News, Episode 5: Oct. 24, 2016

(Story)

Oct 17, 2016

TJTV News, Episode 4: Oct. 17, 2016

(Story)

Oct 17, 2016

TJTV News, Episode 3: Oct. 3, 2016

(Story)

Oct 17, 2016

TJTV News, Episode 2: Sept. 26, 2016

(Story)

Sep 19, 2016

TJTV News, Episode 1: Sept. 19, 2016

(Story)

Sep 14, 2016

Valleycrest Park Vlog

(Story)

Sep 12, 2016
Aug 21, 2016

The Benefits of Summer Practices for Fall Sports

(Story)

Jun 07, 2016
May 27, 2016

Senior Profile: Edward Zhou

(Story)

May 23, 2016

Boy's Tennis End of Regular Season

(Story)

May 08, 2016

Happy Mother's Day!

(Story)

May 03, 2016

TJ ON: AP Exam Test Day Tips

(Story)

Apr 28, 2016

Technology Integration in the Classroom

(Story)

Apr 20, 2016

Boys Tennis Photo Gallery

(Story)

Apr 13, 2016
Apr 01, 2016

TJ ON: iNite Rehearsals

(Story)

Mar 19, 2016

Vlog: CSPA Journalism Convention – NYC

(Story)

Mar 10, 2016

Girls Start Tennis Season

(Story)

Mar 04, 2016
Feb 26, 2016

National Scholastic Journalism Week: Broadcast Journalism

(Story)

Feb 19, 2016
Feb 12, 2016
Feb 10, 2016
Feb 03, 2016

Renovation Update

(Story)

Jan 22, 2016
Jan 15, 2016

Standardized Testing

(Story)

Jan 08, 2016

TJ ON: New Year's Resolutions

(Story)

Jan 06, 2016
Dec 27, 2015

DIY: Hot Chocolate Mug Treats

(Story)

Dec 17, 2015

How to Cope with Tragedy

(Story)

Dec 09, 2015

Winter World Languages Festival

(Story)

Dec 04, 2015

TJ ON: New Homework Policy

(Story)

Nov 20, 2015
Nov 13, 2015

TJ ON: Suggestions for Change in TJ

(Story)

Nov 13, 2015
Oct 30, 2015

First quarter comes to a close

(Story)