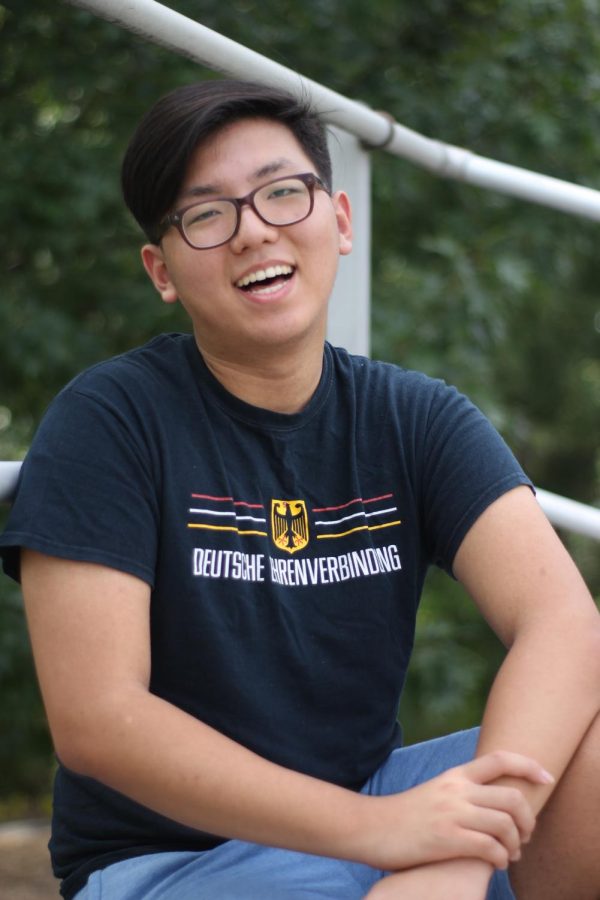 The crowd starts cheering as the Thomas Jefferson Colonials football team makes a successful offensive push. Of the ones cheering, the cheerleaders are the loudest, of course. Red, white, and blue pom-poms are waving and feet are flying in the air as the cheerleaders provide the moral support necessary for any sporting event. One of these cheerleaders is Will Cho, and he has been a part of the cheer team since sophomore year.
Will is one of the most bubbly and funny people you will meet at TJ, and his personality carries across in everything he does, including deciding to take Broadcast Journalism as a senior at TJ. Will is very excited to see what broadcast will have in store for him, and he hopes to leave his own mark on the Video Morning Announcements program at TJ.
In his free time, Will enjoys watching Netflix and jamming out to emo music. As Will starts his senior year at TJ, he hopes to study law, somewhere along the West Coast, in the near future.
Will Cho, Broadcast
Jun 03, 2019

TJTV News, Episode 86: June 3, 2019

(Story)

May 20, 2019

Taking Part in Techstravaganza

(Story)

May 20, 2019

TJTV News, Episode 85: May 20, 2019

(Story)

May 19, 2019

TJON: Memorable Teacher Moments

(Story)

May 13, 2019

TJTV News, Episode 84: May 13, 2019

(Story)

May 07, 2019

JEA/NSPA Journalism Convention 2019 – Anaheim: Vlog

(Story)

May 06, 2019

TJTV News, Episode 83: May 6, 2019

(Story)

May 06, 2019

The Purpose of Painting the Rock

(Story)

Apr 29, 2019

Remembering Rome's Birthday

(Story)

Apr 29, 2019

TJTV News, Episode 82: April 29, 2019

(Story)

Apr 22, 2019

TJTV News, Episode 81: April 22, 2019

(Story)

Apr 08, 2019

TJTV News, Episode 80: April 8, 2019

(Story)

Apr 08, 2019

TJ's Annual Talent Show

(Story)

Apr 01, 2019

TJTV News, Episode 79: April 1, 2019

(Story)

Apr 01, 2019

TJON: Attending HackTJ

(Story)

Mar 25, 2019

Orchestra's Road to Assessments

(Story)

Mar 25, 2019

TJTV News, Episode 78: March 25, 2019

(Story)

Mar 18, 2019

TJTV News, Episode 77: March 18, 2019

(Story)

Mar 18, 2019

TJON: The College Admissions Scandal

(Story)

Mar 11, 2019

TJTV News, Episode 76: March 11, 2019

(Story)

Mar 11, 2019

Ballroom Dancing at Buleria

(Story)

Mar 04, 2019

TJTV News, Episode 75: March 4, 2019

(Story)

Mar 04, 2019

TJON: The Speed of the School Year

(Story)

Feb 25, 2019

TJON: Snow Days and Their Consequences

(Story)

Feb 25, 2019

TJTV News, Episode 74: Feb. 25, 2019

(Story)

Feb 11, 2019

TJTV News, Episode 73: Feb. 11, 2019

(Story)

Feb 11, 2019

A Student-Produced Swingin' Valentine's Dance

(Story)

Jan 28, 2019

TJTV News, Episode 72: Jan. 28, 2019

(Story)

Jan 28, 2019

Experiencing the Women's March 2019

(Story)

Jan 14, 2019

TJTV News, Episode 71: Jan. 14, 2019

(Story)

Jan 14, 2019

The Perks of the College Partnership Program

(Story)

Jan 11, 2019

Top 8 of 2018: Food Trends Vlog

(Story)

Jan 07, 2019

TJTV News, Episode 70: Jan. 7, 2019

(Story)

Dec 21, 2018

TJTV Six-Word, Six-Shot Stories: After lunch in a food coma.

(Story)

Dec 21, 2018

TJTV Six-Word, Six-Shot Stories: Did that physics test go well?

(Story)

Dec 21, 2018

TJTV Six-Word, Six-Shot Stories: College apps. Want to get in…

(Story)

Dec 17, 2018

TJTV News, Episode 69: Dec. 17, 2018

(Story)

Dec 17, 2018

The Makings of SGA's Ping Pong Tournament

(Story)

Dec 10, 2018

TJTV News, Episode 68: Dec. 10, 2018

(Story)

Dec 10, 2018

The Simple Message of Stickers

(Story)

Dec 03, 2018

TJTV News, Episode 67: Dec. 3, 2018

(Story)

Dec 03, 2018

The Art of Expression in Poetry Out Loud

(Story)

Nov 26, 2018

TJTV News, Episode 66: Nov. 26, 2018

(Story)

Nov 26, 2018

Why Donate Blood at TJ?

(Story)

Nov 26, 2018

What Do TJ Alumni Miss Most About TJ?

(Story)

Nov 19, 2018

TJTV News, Episode 65: Nov. 19, 2018

(Story)

Nov 19, 2018

Wrestling: A Growing Sport at TJ

(Story)

Nov 12, 2018

Saudade: TJ's Original Drama Production

(Story)

Nov 12, 2018

TJTV News, Episode 64: Nov. 12, 2018

(Story)

Nov 02, 2018

Hispanic Heritage Month: Being Hispanic at TJ

(Story)

Oct 29, 2018

TJTV News, Episode 63: Oct. 29, 2018

(Story)

Oct 22, 2018

TJTV News, Episode 62: Oct. 22, 2018

(Story)

Oct 15, 2018

TJTV News, Episode 61: Oct. 15, 2018

(Story)

Oct 01, 2018

TJTV News, Episode 60: Oct. 1, 2018

(Story)

Sep 24, 2018

TJTV News, Episode 59: Sept. 24, 2018

(Story)

Sep 17, 2018

TJTV News, Episode 58: Sept. 17, 2018

(Story)

Sep 15, 2018

TJON: Choosing 8th Periods

(Story)

Sep 10, 2018

TJTV News, Episode 57: Sept. 10, 2018

(Story)

Feb 02, 2017