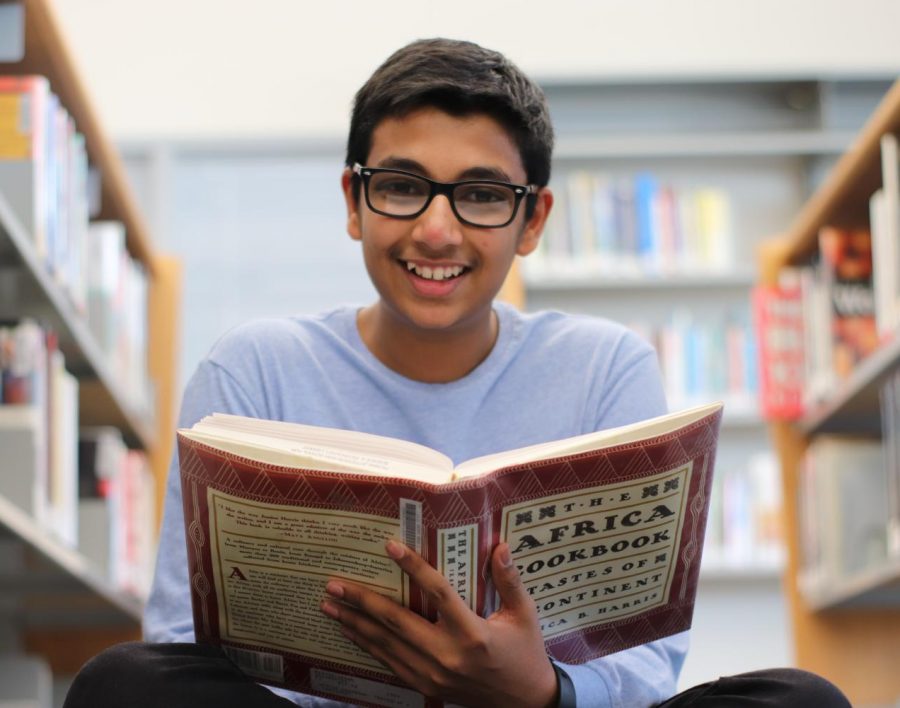 Munich, Germany. Prague, Czech Republic. Bratislava, Slovakia. A travel aficionado with a severe case of wanderlust, these are only three of the seven cities junior Sid Ram stopped by this summer. When Ram is not boarding a plane to yet another exotic city, he enjoys updating his blog, Sid's Adventures, diving into the pages of a young adult novel, and experimenting with new dishes.
"I love making traditional dishes when I cook, but I add in a little twist," Ram said.
Ram also tries to spice up his academic life, filling 8th period slots with clubs like Forensic Science Society, where he serves as secretary. Ram began his journalistic experience in seventh grade, eventually becoming Editor-in-Chief for his middle school paper.
"It was a lot of fun writing articles and going around the school taking photos," Ram said.
After entering Jefferson, Ram took a break from journalism before joining the tjTODAY staff this year. Looking ahead, Ram plans to study diplomacy and international relations and become a state department diplomat. As for this year, he hopes to explore the Jefferson community through journalism.
"I'd like to write a story that really has an impact on someone," Ram said. "Something that helps someone or alters their perception of TJ or learning."
Sid Ram, Social Media Manager
Mar 24, 2020

A collection of thoughts from a (former) high school senior

(Story)

Mar 09, 2020

Jefferson student wins Virginia Journalist of the Year 2020

(Media)

Feb 19, 2020

Seniors speak out

(Media)

Jan 10, 2020

Top 9 of 2019: Top Events

(Story)

Sep 13, 2019

TJTV News, Episode 89: Sept. 16

(Story)

Aug 28, 2019

FCPSOn launches to mixed reactions

(Story)

Jun 12, 2019

Disney Releases Frozen 2 Official Trailer

(Story)

Jun 11, 2019

At a student's expense: Why educational trips should cost less

(Story)

Jun 09, 2019

Everything Wrong with Finals Week

(Story)

Jun 06, 2019

Downton Abbey trailer sheds light on the upcoming movie.

(Story)

Jun 05, 2019

Aladdin – A movie review

(Story)

May 09, 2019

Varsity softball loses crucial game days before National District Quarterfinals

(Story)

May 07, 2019

Stressing more about stress less laugh more

(Story)

Apr 03, 2019

Let's Talk About TED Talks

(Story)

Apr 01, 2019

Fairfax County Public Schools Announces One-to-One Laptop Choice

(Story)

Apr 01, 2019

"Leadership in Turbulent Time" Book Review

(Story)

Mar 31, 2019

Changes made to Fairfax County Public Schools' 2019-2020 Calendar

(Story)

Mar 13, 2019

Golden Traditions

(Story)

Feb 20, 2019

Grade Bumps: A Moral Dilemma

(Story)

Feb 08, 2019

#YouBelongHere Photo Contest: Rules

(Story)

Jan 19, 2019

Jefferson Student Creates Petition to Close School.

(Story)

Jan 12, 2019

Top 8 of 2018: Influential People

(Story)

Dec 19, 2018

Fitting into Froshmore Year

(Story)

Nov 29, 2018

Life Saving Facts About Blood

(Story)

Nov 06, 2018

The Education Revolution

(Story)

Oct 11, 2018

Instagram Story: Homecoming 2018 Pep Rally Day 4

(Story)

Oct 09, 2018

Instagram Story: Homecoming 2018 Pep Rally Day 3

(Story)

Oct 06, 2018

Major Changes Being Made to Senior Privilege

(Story)

Oct 05, 2018

Instagram Story: Homecoming 2018 Pep Rally Day 2

(Story)

Oct 04, 2018

Instagram Story: Homecoming 2018 Pep Rally Day 1

(Story)

Sep 29, 2018

Instagram Story: Back to School Bash 2018

(Story)

Sep 27, 2018

Amendments to Money Wars Made After Controversy Over Transparency

(Story)

Sep 12, 2018

8th period activities fair photo gallery

(Story/Media)

Sep 08, 2018

Golf and Field Hockey Teams Cancel Practices Due to the Heat

(Story)

Sep 04, 2018

The Freshman's Guide to Surviving TJ

(Story)

Feb 20, 2017
Jan 06, 2017