Major Changes Being Made to Senior Privilege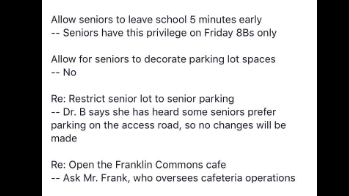 Sid Ram, Social Media Manager
October 6, 2018
A message posted to the private "Class of 2019" Facebook group detailed the changes that would be made to senior privileges this year. Senior privileges are small perks the seniors get, such as being able to leave school five minutes early on Fridays.
The contents of the message originated from a meeting that administration and 2019 class cosponsors attended. The post explained which privileges would remain, which would change, and which would be revoked completely.
"The conversation is not over," 2019 class council cosponsor, Dr. Alouf Jirari Scavotto said. "One privilege that's not going away is for seniors to be able to leave on Fridays five minutes before the end of eighth period."
2019 Class Council plans on meeting with administration again, after homecoming, to finalize the privileges allowed.
"The [first] meeting sent a strong signal that the communication lines are open between students and administration, but because it happened so close to homecoming, 2019 Class Council decided to postpone any discussions or debates about "Senior Privilege" right now and focus instead on the demands of homecoming activities," Jirari Scavotto said. "As soon as homecoming is over, a meeting is going to be scheduled to go back and discuss whatever it is that the students in the senior class would want to discuss further."
The reason senior privileges change from year to year is because there is no official document listing the rules and privileges.
"I am not aware of the existence of an official document that lists senior privileges," Jirari Scavotto said. "I just know that every year senior classes are naturally going to want to take advantage [of] their upperclassmen status and set some privileges for themselves."