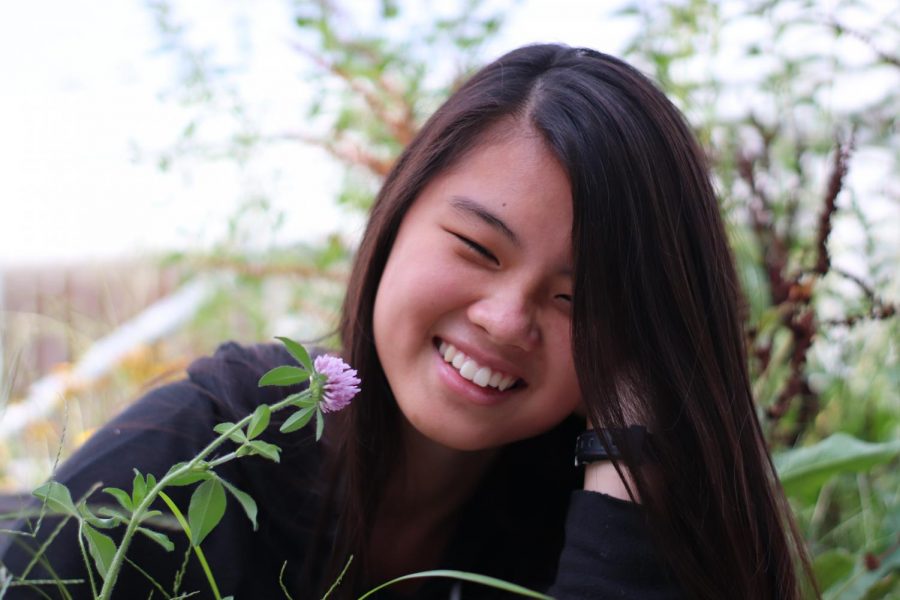 Spinning flags in "middle of nowhere", Pennsylvania. That's where Grace Mak was for a good part of the summer, working with the TJMC.
Mak, a senior at Jefferson, enjoys baking, and in her free time, used to read classic books like "Pride and Prejudice".
"But now, I don't get time to read," Mak said.
Mak also enjoys listening to all sorts of music, and dances as well. Mak has five years of journalistic experience, three of which she has spent working with TJ Media. She started volunteering for the middle school journalism club, and when she first came to Jefferson, she worked as a member of tjTODAY's 8th-period staff.
As for Mak's future, "I'm hoping to someday go into the medical field, specifically as a pediatrician or family doctor," she said. "I've always really loved working with kids."
Mak also hopes to one day take a trip with some of her friends. Mak shared that she was put in a position in which she almost didn't work for TJ Media, however, her passion for journalism kept her close to TJ Media.
"Unfortunately my schedule didn't work out so I got put into Ancient Civ," Mak said of her freshman schedule. "So to kinda still be in journalism, I started working as 8th-period staff for tjTODAY and then I was able to sign up for Journalism 2 the next year. This would be my third consecutive year on the tjTODAY staff."
Grace Mak, Editor-in-Chief
Jan 10, 2020

Top 9 of 2019: K-Pop Songs

(Story)

Sep 18, 2019
Apr 14, 2019

Map of Soul: Persona

(Story)

Jan 12, 2019

Top 8 of 2018: K-Pop Songs

(Story)

Dec 17, 2018

Food Lockers: Yes or No?

(Media)

Oct 31, 2018

The BASIC Pumpkin Spice

(Story/Media)

Oct 31, 2018

The Art of Emotional Expression

(Story/Media)

Oct 15, 2018

Putting the Cool Back in School

(Media)

Oct 04, 2018

Small Campus, Big Heart

(Story)

Sep 10, 2018

Stuck on the sidelines

(Story)

Sep 01, 2018

Rolling gradebook rolls into Jefferson with improved accuracy and stress-reducing benefits

(Story/Media)

Jun 10, 2018

Snapchat Story: JDAY 2018

(Story)

May 29, 2018

A Poet In Us All

(Story/Media)

May 19, 2018

BTS showcases their versatility in "Love Yourself: Tear"

(Story)

Apr 27, 2018

Administration Reverses Decision to Eliminate Level One World Language Classes

(Story)

Apr 20, 2018

Winner lives up to their name with "EVERYD4Y"

(Story)

Apr 18, 2018

Atlantis Global Shadowing Programs discusses medical opportunities abroad

(Story/Media)

Apr 04, 2018

Dr. Brian Kennedy Receives Conant Award From the American Chemical Society

(Story)

Mar 18, 2018

Yale's Ballroom Dance Team showcases college-level ballroom dance routines

(Story/Media)

Mar 16, 2018

Notes Heard 'Round The World

(Story)

Feb 28, 2018

Wrestling with Male Dominance

(Story)

Feb 09, 2018

Varsity wrestling sees victories at district championships

(Media)

Jan 04, 2018

Top 7 of 2017: K-Pop Songs

(Story)

Oct 25, 2017

Varsity volleyball defeats Lee Lancers during senior night

(Story/Media)

Oct 20, 2017

Volleyball Senior Night games against Lee Lancers photo gallery

(Story/Media)

Apr 10, 2017

Screenagers searches for a healthy balance with screen time

(Story)

Mar 26, 2017

Jefferson Drama's "Les Misérables" explores complexities of human morality

(Story)

Mar 12, 2017

Diversity Week unites the Jefferson Community before iNite

(Story)

Feb 23, 2017

Jefferson debate teams triumph at the 43rd Annual Harvard National Forensics Tournament

(Story)

Feb 05, 2017

Jefferson Science Fair projects increase enthusiasm in the community

(Story/Media)

Jan 13, 2017

Gymnastics team gives a spirited performance at Mt. Vernon meet despite not having all members present

(Story)

Jan 02, 2017

Gifts for teachers: a kind gesture or just flattery?

(Story)

Dec 03, 2016

She's the First's bake sale sells out within minutes

(Story)

Nov 15, 2016

Jefferson theater brings The Diary of Anne Frank to life

(Story/Media)

Nov 06, 2016

Band's first concert of the year brings down the gym with a variety of music and deafening applause

(Story/Media)