Dr. Brian Kennedy Receives Conant Award From the American Chemical Society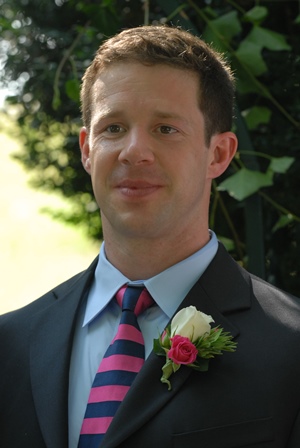 It was in his years as a graduate student, standing in front of a hall of eager faces, that Dr. Brian Kennedy found what made him click. The passion that had not taken solid shape in a laboratory blossomed in a teaching setting. After a three-year stint with Teach for America in rural North Carolina, Kennedy returned to his hometown of Fairfax to teach at Thomas Jefferson High School.
Years later, Kennedy found himself the recipient of the James Bryant Conant Award, a prestigious award for high school teachers who show a high quality of teaching both in and out of the classroom, from the American Chemical Society (ACS). It was an affirmation of his continued dedication to his students and to outreach programs beyond expected standards.
"Mr. Tyson and the American Chemical Society encouraged me to apply for the Conant Award [in 2006-2007], but I wasn't chosen at that time," Kennedy said, "Since then, I have spent substantial time doing volunteer work with the American Chemical Society (ACS) which has included contributing to book writing, serving as an 'ACS Expert,' giving presentations, and serving on many outreach efforts."
In spite of the initial failure, Kennedy found success in his second effort, the knowledge of which came in the form of a call from Allison Campbell, the president of ACS.
"I was actually at TJ in the lab with my daughters who wanted to escape the summer heat and do some experiments with dad," Kennedy said, "I celebrated with them by getting slurpees from 7/11, but then waited to tell more of my family later that week when we were all together for dinner."
Kennedy attributed the achievement to the support of those around him throughout the decades of his teaching career.
"I am extremely grateful for his support with this, for the support of the TJ administration over my many years of being here, and of course for the many, many students over the nearly past twenty years," Kennedy said.
Much of his inspiration to have a wider outreach beyond the classroom came from attending such as the Intel International Science Fair, which he chaperoned at during his first year at Jefferson in 2002.
"It was during this trip that I was first able to see how rewarding it was for students to excel to such a level of STEM competition," Kennedy said, "We met many famous people, astronauts, Noble Laurette recipients, and of course many unique students and their research projects."
Kennedy's experiences in New Orleans at the ACS conference gave him renewed motivation to begin larger and more ambitious projects in the future.
"I have long endeavored to write a Chemistry Research Project book so that others can develop their own programs," Kennedy said. "I've also wanted to develop a new laboratory program of studies for the elective course, Introduction to Organic Chemistry with Instrumental Analysis.  An aim for both of these is to be able to provide outreach resources for other schools since so many want to be able to offer similar opportunities in their own schools."