FCPSOn launches to mixed reactions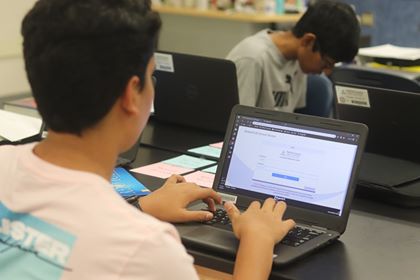 Sid Ram, Social Media Manager
August 28, 2019
With the start of the 2019-2020 school year, FCPS students in middle and high schools received brand new laptops. The FCPSOn program strives to eventually provide every student in the county with a personal laptop. There have been mixed emotions regarding the laptops which were handed out during 8th period. 
"For the FCPSOn program to be successful, I think it's necessary that the devices are affordable enough that money isn't being siphoned from other important programs," Senior Keegan Lanzillotta said.
While students like senior, Samyog Lamsal see the value in the FCPSOn program, they also express their problems with it.
"I could see how connecting to the wifi network as well as the printers in the school is useful in other schools," Lamsal said. " However, at TJ, we already have ION printing, so having a school issued device would not make printing any easier."
For students who already have laptops, the FCPSOn program is not as revolutionary.
"I plan to opt out of this program since I already own a laptop of my own," Lamsal said. "However, for other students, the program could be useful as it gives them access to a personal computer for only $50."