Golden Traditions
Jefferson students celebrate Mardi Gras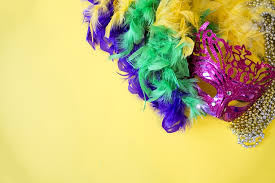 Sid Ram, Social Media Manager
March 13, 2019
Green. Gold. Purple. No, there are not the colors of a local high school. They are the colors of one of America's most colorful celebrations: Mardi Gras. Last week at Jefferson, the jazz band played some lively songs as students walked into the building to celebrate Mardi Gras.
"Jazz was invented in New Orleans," jazz band member senior Arravind Sudhakar said. "Jazz itself is a very Mardi Gras sort of thing; it's a very large part of Mardi Gras and Mardi Gras culture."
Even though the jazz band was notified about the event at the last minute, they still managed to rehearse in time to play.
"We usually do these sort of gigs for the school," Sudhakar said. "So we gathered a small group of kids and we threw together two songs in 40 minutes."
One question still remains, however. What is mardi gras?
"[Mardi Gras] it is a celebration of sorts," Lab Technology teacher Monica Geiger said. "It's a festival time to celebrate life."
Geiger remembers celebrating Mardi Gras when she was younger.
"[My friends] started taking me to more of the family parades in New Orleans," Geiger said. "[Before,] I [only] went to smaller ones but, when you go to the larger [parades] in New Orleans, it takes on a whole new meaning."
Mardi Gras is more than just the parades and the celebration though.
"You would really see families using the time to get together with other family and friends," Geiger said. "They would have these huge traditions of getting together for the parade day and parade meal and things like that."
Traditions play a big role in celebrating Mardi Gras and have shaped how Geiger sees the celebration now.
"I love traditions; I love the family time," Geiger said. "[These are] things that you can look forward to and which are the same each year; the parties to go to and the festivities and just the joy of seeing everybody and having fun."
Teachers and administrators handed out healthy snacks and Mardi Gras beads to students as they walked into the building. Where did the beads come from?
"Most people from Louisiana who celebrate Mardi Gras have these huge boxes and bags of beads that we collect because we catch them during the parade," Geiger said.
Although it didn't go just how she had expected, Geiger still enjoyed sharing her Mardi Gras experiences with Jefferson students.
"I was hoping we were going to kind of parade through the halls," Geiger said. "But, I think the atmosphere was very similar to what you look forward to in the tradition of people were happy and they were interested."