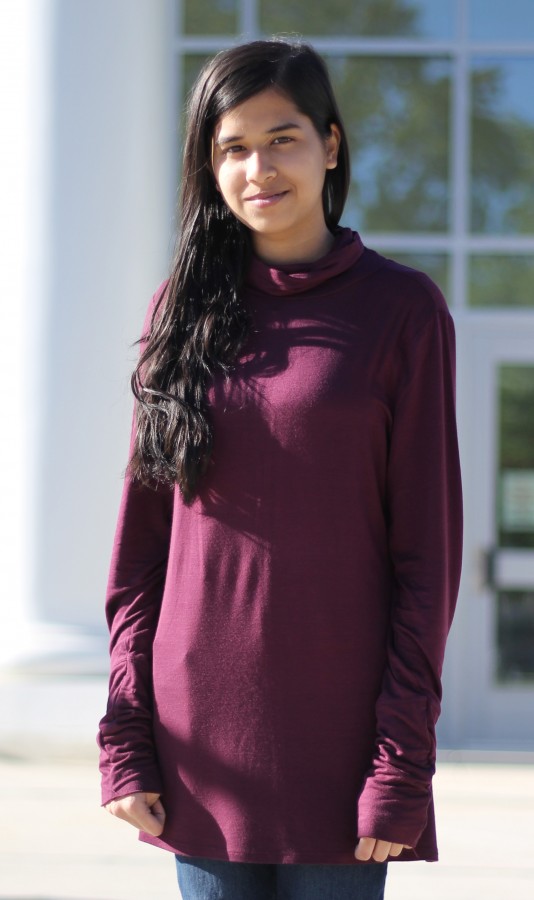 A senior at Jefferson, Uzma is in her third year of working on the newspaper staff. As an Editor-in-Chief, she guides the planning, writing, editing and designing process. In the past, Uzma has served as Team Leader and staff writer.
Uzma joined tjTODAY because she was looking for a way to be involved in the TJ community and enjoys writing.
Outside of journalism, Uzma is involved in TJ Aerospace Initiative. After high school, Uzma would like to pursue a career in medicine.
Uzma Rentia, Editor-in-Chief
Mar 27, 2018

"Salt Houses": Finding a balance between war, loss and a cacophony of identities

(Story)

Feb 07, 2018

DETERMINED TO DREAM

(Story)

Jan 06, 2018

Top 7 of 2017: News Stories

(Story)

Oct 01, 2017

It's the same old, same old for SNL's season premiere

(Story)

Sep 21, 2017

TJ Intranet aims to make eighth period sign-ups easier

(Story)

Sep 14, 2017

Ultimate Frisbee prepares for a new season

(Story)

Aug 19, 2017

Summer Travels to Turkey: Day 4

(Story)

Aug 18, 2017

Summer travels to Turkey: Day 3

(Story)

Aug 17, 2017

Summer Travels to Turkey Day: 2

(Story)

Aug 16, 2017

Summer travels to Turkey

(Story)

Jun 29, 2017

"Lord of Shadows" is the novel loyal fans deserve

(Story)

Dec 25, 2016

Top 16 of 2016: News Stories

(Story)

Nov 08, 2016

First 100 days in office: see how the candidate' goals compare

(Story)

Oct 05, 2016

"The Flash" sets the tone for a promising season

(Story)

Aug 08, 2016

Summer Travels: Day 3 of my time in Jerusalem

(Story)

Aug 07, 2016

Summer Travels: Day 2 of my time in Jerusalem

(Story)

Aug 06, 2016

Summer Travels: Day 1 of my time in Jerusalem

(Story)

Jun 19, 2016

"Finding Dory" is a touching sequel to the 2003 classic

(Story)

Jun 17, 2016

J-Day Photo Booth Pictures

(Story)

Jun 17, 2016

Freshman Mallory Brodnick raises $9,472.35 for Relay for Life

(Story)

May 20, 2016

Transformers Robotics Competition

(Story)

May 06, 2016

Three juniors receive Achievement Awards in Writing from NCTE

(Story)

Dec 31, 2015

Top 15 of 2015: News Stories

(Story)

Oct 22, 2015

Homecoming Week 2015: Thursday Oct. 22

(Story)

Oct 20, 2015

Homecoming Week 2015: Monday Oct. 19

(Story/Media)

Oct 18, 2015

"Arrow" right on target with fourth season

(Story)

Oct 04, 2015

Water on Mars raises questions and possibilities

(Story)

Sep 24, 2015

Empire Reigns Television with Season 2 Premiere

(Story)

Sep 20, 2015

Out with the stress, in with the spirit: Jefferson students dig Back to School Bash

(Story/Media)

Sep 16, 2015

Students wear tie-dye in remembrance of Wakefield HS student

(Story)

Sep 06, 2015

Must-Sees of Atlanta: Stone Mountain

(Story)

Aug 24, 2015

Must-Sees of Atlanta: Georgia Aquarium

(Story)

Aug 19, 2015

Must-Sees of Atlanta: World of Coca-Cola

(Story)

Jun 16, 2015

Rethink the math system – again

(Story)

Jun 16, 2015

"Jurassic World" is a must-see

(Story)

Jun 12, 2015

IBET Robot Competition Held

(Story)

May 23, 2015

New school year will bring changes to the schedule

(Story)

May 08, 2015

Jefferson prevails against Marshall

(Story)

Apr 13, 2015

Jefferson hosts interfaith event

(Story)

Apr 11, 2015

Jefferson students showcase talents in the 2015 Talent Show

(Story)

Mar 23, 2015

'Empire' Season 1 sets the stage for interesting second season

(Story)

Mar 01, 2015

Why I will always choose journalism

(Story)

Feb 13, 2015

Jefferson Science and Engineering Fair winners released

(Story)

Feb 06, 2015

Gymnastics season ends on a high note

(Story)

Jan 15, 2015

Rocketry Club Prepares for Upcoming Competition

(Story)

Jan 08, 2015

Top 14 of 2014: People

(Story)