Top 15 of 2015: News Stories
2015 was no undoubtedly an eventful year. While this year did have some light moments, such as the FIFA Women's World Cup and  Facebook founder Mark Zuckerberg's pledge to $45 billion to charity, it was also marred by a multiple tragedies and deaths. Here is a look back at most momentous and pivotal moments of 2015.
---
15. FIFA Women's World Cup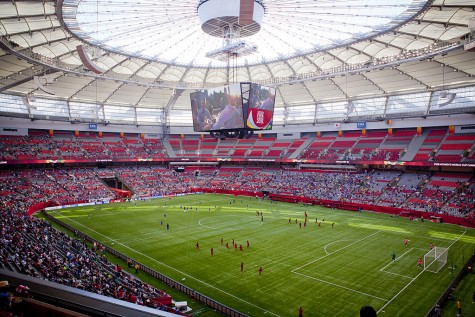 While the U.S. is most known for its love of football, that did not stop a staggering 20.3 million Americans from tuning in for the Women's World Cup Final, making it the most watched soccer match in U.S history. The U.S Nations Women's Team won the cup in a 5-2 match against Japan, bringing the number of U.S. victories to two
---
14. Mark Zuckerberg and Priscilla Chan's Philanthropy
To mark the Dec. 1 birth of their daughter, Max, Zuckerberg and Chan penned an open letter in which they dreamed of a better world for her future. They pledged to donate 99% of their Facebook shares, valued at approximately $45 billion, to the Chan Zuckerberg Initiative, a charitable foundation focused on health and education.
---
13. On-Air Shooting in Virginia
Vester Lee Flanagan, a former news anchor, shot two of his former colleagues while they were on air for a Roanoke, Virginia, TV station. The shooting, which occurred on Aug. 26, took the lives of reporter Alison Parker and cameraman Adam Ward. Flanagan then posted a video of the shooting on social media and called ABC News afterwards. Later that day he shot himself to death during a car chase with police.
---
12. Amtrak Train Crash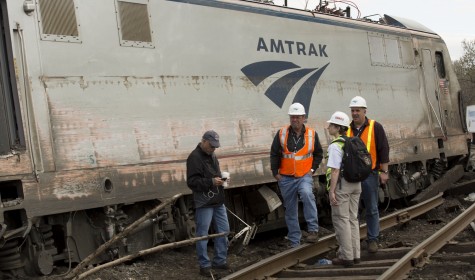 In May a train derailment in Philadelphia took the lives of eight and injured upwards of 200 passengers after the train sped around a curve and went of course. Although the engineer could not explain the cause of the crash, the National Transportation Safety Board concluded that the train accelerated before the crash and had been traveling more than 100 mph – double the speed limit for that area of the track.
---
11. David Sweat and Richard Matt
The chase for the two convicted murders gripped the nation for a nail-biting two days. Summer's biggest story began when Joyce Mitchell, a seamstress at Clinton Correctional Facility in upstate New York, engaged in a relationship with Matt and eventually began smuggling tools hidden in frozen meat. On June 6 Matt and Sweat made their escape by crawling out of sewage pipes and digging through walls. The massive manhunt that ensued ended when officers shot and killed Matt on June 26 and found Sweat two day later. Mitchell was also sentenced to up to seven years in prison.
---
10. Murder Trials
Four of the biggest murder trials reached guilty verdicts this year. In February it was Eddie Ray Routh, who was found guilty of killing Chad Littlefield and "American Sniper" Chris Kyle whose bestselling book and biopic earned him national attention. In April former New England Patriots star Aaron Hernandez was found guilty of killing Odin Lloyd, who was dating Hernandez's fiancée's sister. Dzhokhar Tsarnaev, the younger brother of the pair of siblings that carried out the Boston Marathon Bombing in 2013. Tsarnaev was found guilty of all 30 charges pressed against him and sentenced to death. While the verdict gave the families of the victims a sense of closure, years' worth of appeals is underway. The final trial was that of James Holmes, who killed 12 and injured 70 when he opened fire inside a movie theater in Aurora, Colorado in 2012. He was sentenced to one life sentence for each of his 12 victims, plus, 3,138 years for the attempted murders.
---
9. Pope Francis Visits the U.S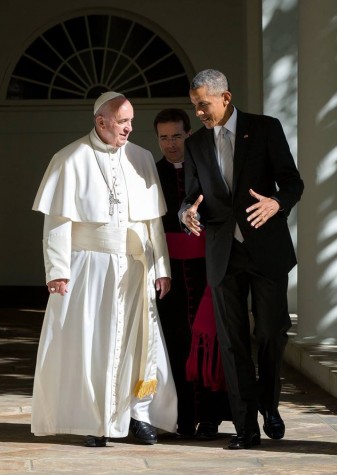 The nation's Catholics rejoiced when Pope Francis made his inaugural visit to the United States, among other countries. His visit started in Washington, D.C., after a trip to Cuba, and he went on to visit New York and Philadelphia before returning to the Vatican. Some of the highlights of the trip included a historic address to Congress. Much of the excitement surrounding his historic visit is due to his reputation as down-to-earth manner and relatively forward-thinking.
---
8. Germanwings Flight 9525 Crash
Unlike the previous year's plane crashes the mystery of 2015's downed planed was solved when investigators used the plane's recording device to lead them to the culprit: the co-pilot. The recording from inside the cockpit during the March 24 flight from Barcelona to Dusseldorf indicated that Andreas Lubitz locked the lead pilot out of the cockpit and then directed the plane toward the mountains of the French Alps, killing all 144 passengers and six crew members on board.
Lubitz had previously been treated for suicidal tendencies and was declared unfit to work by a doctor, however, Lubitz withheld this information and attended work anyway.
---
7. Same-Sex Marriage Debate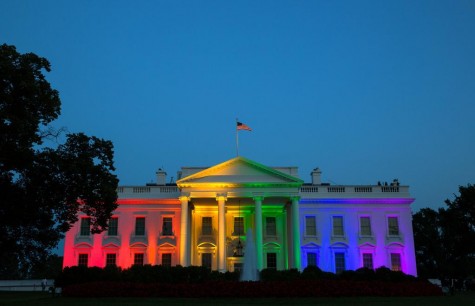 The Supreme Court's landmark decision to allow same-sex marriage in June was praised by the nation. The 5-4 decision was not without controversy however. Kim Davis, a county clerk in Kentucky, became the topic of debate when she refused to issue marriage licenses to same-sex couples claiming it went against her beliefs. She was jailed for nearly a week for defying a judge's order to issue any marriage licenses. Justice Antonin Scalia also found the spotlight for his outspoken stance on same-sex marriage and his criticism of the Supreme Court's structure. He called it "system of government that makes the People subordinate to a committee of nine unelected lawyers does not deserve to be called a democracy."
---
6. Charleston Shooting
The shooting at Charleston's historic Emanuel AME Church in June caused incited national mourning and outrage. Dylann Roof, a 21-year-old alleged white supremacist attended a Bible study session as the predominately African-American church before opening fire. Nine lives were lost that day including including the senior pastor, state senator Clementa C. Pinckne. Roof's supposed racist beliefs prompted national debate over the use of the Confederate Battle Flag at South Carolina's Capitol. The controversy simmered after state legislature voted to have the flag taken down, however, the incident caused other states to question their own use of the flag.
Roof it currently awaiting trial on 33 counts, including murder, firearm charges and federal hate crime charges.
---
5. European Refugee Crisis
As the Syrian Civil War and the threat of the Islamic State of Iraq and the Levant (ISIL) shows no signs of slowing down, tens of thousands of Syrian are being forced out of their homes.  . The Nations (UN) estimates that there are approximately seven million internally displaced Syrians and another three millions that have fled to other areas in the Middle East, Africa and more recently Europe. Many Syrians are marking the dangerous trip to Europe on flimsy boats in hopes of receiving asylum in countries like Germany and Sweden. The influx of refugees has prompted mixed receptions with some countries such as Hungary deciding to close of their borders and put of fenced to keep refuges out. President Obama's plan to allow 10,000 Syrian refugees into the United States has been met with resistance.
---
4. Mass Shootings
2015 brought with it 353 mass shootings and over 400 deaths. Although all shootings are equally regrettable there were few that stood out. The deaths of ten in a college campus in Rosenberg, Oregon, the shooting at a military recruiting office in Chattanooga, Tennessee and the attach on a Planned Parenthood clinic in Colorado Springs, Colorado were all shootings that received widespread coverage this year. The deadliest attack came on Dec. 2 when a married couple opened fire at a center of those with developmental disabilities in San Bernardino, California leaving 14 dead.
---
3. Second Paris Attack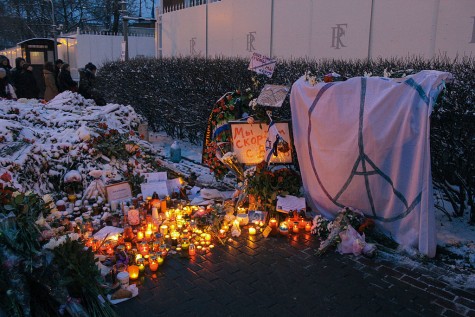 Paris was the site of yet another terror attack when a series of coordinated attack took the lives of 130 people and injured another 368. A combination of shooters and suicide bombers wearing explosive vests targeted a football stadium, restaurants and a concert venue that evening, leaving 130 people dead. The attacks were the deadliest in France since World War II and the deadliest in the European Union since the Madrid train bombing in 2004.
Seven of the attackers were killed while authorities continued to look for accomplices. The alleged ringleader was killed five days later when his apartment in the northern suburb of Saint-Denis was raided. At least one other suspect is still at large.
---
2. Police Brutality
Since the creation of #BlackLivesMatter in 2013 and the death of Michael Brown and Eric Garner in 2014, police brutality has come under much media scrutiny. The deaths of Freddie Gray and Tamir Rice this year on added fuel to the fire. Gray was picked up by police and put in a police transport vehicle without being properly strapped in. He suffered spinal injuries during the ride, which led to his death. Six police officers were charged in connection to his death, the first officer's trial just concluded with a hung jury.
Tamir Rice was just 12 when he was shot dead for what appeared allegedly brandishing a pistol at passersby. The gun was later discovered to be an Airsoft gun. In the pursuing trial a local grand jury ruled not to press criminal charges involved in Rice's death.
Both cases and the results of the ensuing trials lead to outrage, mass protests and extensive media coverage. Rice is being compared to the "modern Emmett Till" by some activists.
---
1. Charlie Hebdo Attack in Paris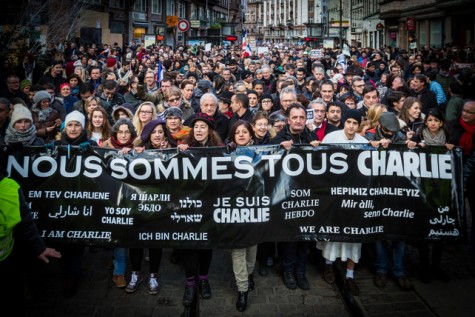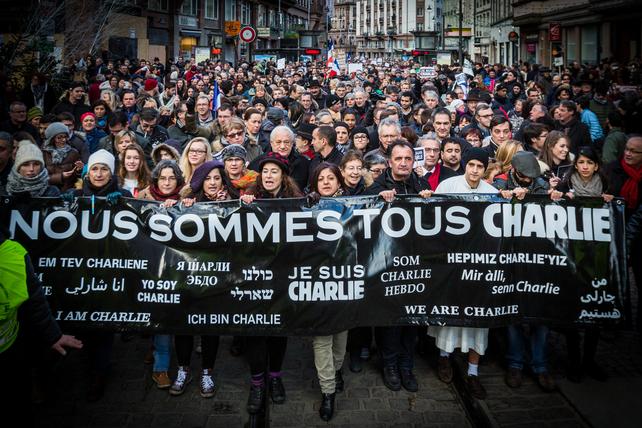 Tragedy struck Paris on Jan. 7 when a group of men with ties to terrorist organizations shot up the famed and controversial satirical newspaper Charlie Hebdo. Two brothers, Saïd and Chérif Kouachi, shot their way into the magazine's office, killing a maintenance man and the bodyguard to the editor. Once inside the proceeded to kill nine others, mostly editorial staff gathered for their weekly meeting, injuring an additional 11. They then drove away in a getaway car where a third man was waiting for them.
The attacks continued for two more days, during which six more lives were taken, including two police officers and four people held hostage in a kosher grocery store. The third perpetrator also died. A faction of al Qaeda claimed responsibility.
In support of grieving country about two million people, including 40 world leaders, gathered in Paris for a rally of national unity. The phrase Je suis Charlie has become a common slogan of support at the rallies and in social media. The staff of Charlie Hebdo continued with the publication, and the following issue print ran 7.95 million copies, in contrast to its typical print run of 60,000.