"Arrow" right on target with fourth season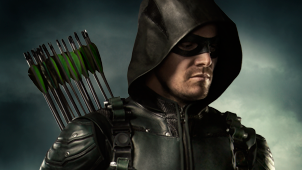 A new costume, tone, threat and a future superhero-to-be: CW's "Arrow" is back with a vengeance, looking to redeem itself from a third season that fell flat.
The third season ended with Oliver Queen, the crime-fighting "Arrow" by night, shedding his vigilante persona and riding of into the sunset with partner Felicity Smoak as the rest of his team took up their leader's mantle. The fourth season begins with Oliver and Felicity settling into suburban life, the latter doing so somewhat uneasily, as the rest of "Team Arrow" attempts to ward of skilled fighters known as "Ghosts." The team eventually implores Oliver and Felicity to return to Starling City in order to deal with the elusive Ghosts, who turn out to be agents of the mysterious Damien Darkh.
Darkh is "Arrow's" darkest character to date. Compared to the third season, which relegated one of Marvel's most deadly villains, Ra's al Ghul, into something of a joke, Darkh is right on target in terms of casting and being the type of villain on par with Oliver's abilities. Oliver has honed his crime-fighting skills considerably since the show's first episode, so it's refreshing to see him battle criminals more intimidating than the latest inconsequential peddler of Vertigo.
A darker villain does not mean a darker tone for the story. True to their word, the creators of the show delivered on their promise to make "Arrow" more like the comic books. Oliver is finally shaking of the demons that have followed him from Lian Yu – the island he was marooned at for five years – and becoming more like the joke-prone hero from the comics. He now goes by the comic book name "Green Arrow" hoping to show his dying city that he is more of a beacon of hope than a vigilante.
Felicity's day time role as now CEO of  Palmer Technology, formerly known as Queen Consolidated, is also a much needed plotline. It is a welcoming change to see her take hold of her own life and finally be defined by something other than her job under Oliver. The latter's decisions to run for mayor is also something to look forward to. This season's addition of business and politics to the mix will ensure that the show does not fall into a worn-out routine of fighting bad guy after bad guy.
With the return of Sara Lancea, Ray Palmer and Palmer Technology, the addition of Mr. Terrific and mayoral bids and the introduction of a new mega-villain this season of "Arrow" is shaping up to be the best one yet.