Three juniors receive Achievement Awards in Writing from NCTE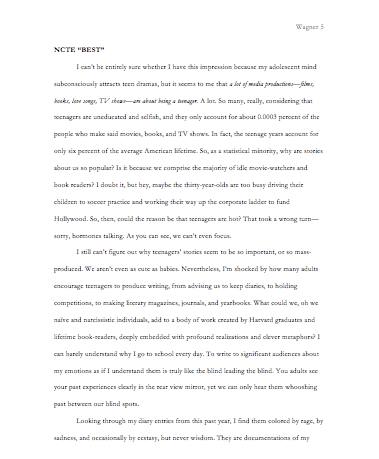 In a school for science and technology some argue that the arts are often left behind, however, this year an unprecedented three juniors – Bayliss Wagner, Katie Tam and Ahnaf Khan – received Achievement Awards in Writing from the National Council of Teachers of English (NCTE). The NCTE is school-based writing program that aims to encourage high schools students in their writing; the competition is open to only juniors in the current academic school year.
In order to be eligible to enter, a panel of judges from each school must nominate a certain number of students based on the size of the student body. Nominated juniors must have written two pieces: a sample that the student considers his or her best work, and can be in any genre, and a themed writing that is in prose and addresses a common topic selected by the Achievement Awards Advisory Committee. This year, the topic was about the conflict between nurturing passion while meeting obligations. Those that make it past the nomination still face competition; in 2015, of the 650 nominated juniors, only 141 in the nation went on to receive Certificates for Superior Writing. As such, both the nomination and the victory came as a surprise to Khan.
"I was actually surprised that I got the award because I didn't know how good my piece was, although my teacher said it was actually really good. I didn't expect anything beyond even being nominated by the school."
Wagner too was grateful for the outcome, she took what she considered a risk with her writing and ultimately saw it pay off.
"I wrote about a subject that had been on my mind for a long time. I felt that it was an important subject, but as I wrote about it, it developed into a piece that included some parts that were meant to be witty but that adults may or may not find insulting as well as candid thoughts on being a teenager, some of which weren't things I would typically tell a teacher," Wagner said. "So I took a risk by using such a candid voice without erasing my true thoughts, but I'm glad that the risk paid off because the Achievement Awards Advisory Committee judged based on quality of writing and probably not based on their own opinion or interpretations of the pieces."
The whirlwind of emotions often associated with receiving such a prestigious award can perhaps be best summarized with Khan's words.
"I like writing so when my teacher told us about this competition and that we would have to write a piece I sent it in. I felt really happy, I thought it was really cool."