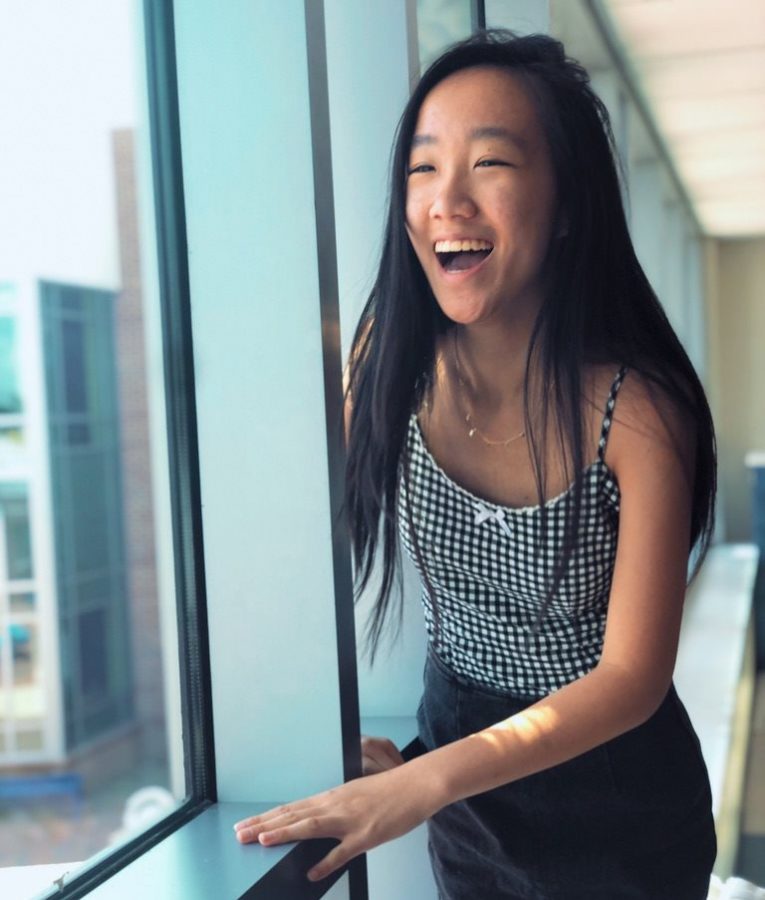 A senior at Jefferson, Elizabeth Sun was writing stories by the time she was 10. Her journey in journalism began in sixth grade when Sun wrote an article for her school's newspaper on 3D printers, and it has continued throughout middle school and her work in tjTODAY.
"Writing is an outlet for me and a break from the monotonous stress of everyday life," Sun said. "I started out telling my own stories and now I want to tell others'."
Sun also loves baking, listening to music, and watching anime to de-stress. Although she is passionate about math and biology, she recognizes the importance words play to ground her and allow her to express herself. Since joining tjTODAY in her sophomore year, Sun has been an active staff writer and photographer and is especially proud of her work on Japanese cultural exchanges.
"Reading manga and watching anime has given me a look into Japanese culture that I've been exploring by attempting to learn the language," Sun said. "Being a part of tjMedia means I have more opportunities to interact with the aspects of Japanese culture at Jefferson."
As for the future, Sun is hoping to be an active member of the journalism program at her future college while conducting research in the sciences. She appreciates the broader outlook that writing for tjTODAY has afforded her and can't wait to continue her writing journey.
Zia Sun, Social Media Manager
Mar 25, 2020

Corona-cation bingeable shows

(Story)

Mar 04, 2020

JUMPing into the future of Traumatic brain injury treatment

(Story)

Feb 22, 2020

Jefferson's Red Cross club hosts annual blood drive

(Story)

Feb 18, 2020

HackTJ 7.0 to be held outside Jefferson

(Story)

Jan 19, 2020

Administration requires supervision for iNite practices on campus

(Media)

Jan 17, 2020

Jefferson Indoor track competes at the Liberty Premier Invitational meet

(Story)

Jan 12, 2020

Six Jefferson students make semifinals of Regeneron Science Talent Search

(Story)

Jan 10, 2020

Top 9 of 2019: Fashion trends

(Media)

Dec 25, 2019

Winter Spirit Week: Photo Gallery

(Story/Media)

Dec 14, 2019

Sadies asking week: Photo Gallery

(Story)

Nov 26, 2019

Power of the podium

(Story)

Nov 03, 2019

Quizbowl hosts fourth annual trivia night at Jefferson

(Story/Media)

Oct 22, 2019

An explosion of two worlds

(Story)

Jun 05, 2019

Jefferson Varsity Math Team scores another win to wrap up a successful year

(Story/Media)

May 12, 2019

Seniors pass the lacrosse stick on

(Story/Media)

Mar 27, 2019

Student Government Association and Quizbowl club host third annual Jefferson Trivia Night

(Story/Media)

Mar 22, 2019

Bollywood dance workshop photo gallery

(Story/Media)

Mar 19, 2019

Debunking Japanese Stereotypes

(Story/Media)

Mar 17, 2019

Photo gallery of cultural performances by Chiben Gakuen Japanese exchange students

(Story/Media)

Mar 17, 2019

Memories and Friendships Spanning Continents

(Story/Media)

Feb 01, 2019

A Blend of New and Old

(Story/Media)

Oct 27, 2018

Support from the Stands

(Story)