Jefferson's Red Cross club hosts annual blood drive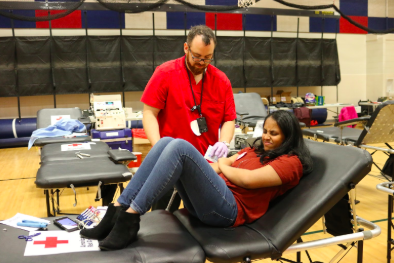 Zia Sun, Staff Writer
February 22, 2020
Early Friday morning on Feb. 14, the Red Cross team arrived at Jefferson to set up for their annual blood drive in Gym 2. Students who were at least 16 years of age could make appointments or walk in between 8:40 a.m. to 1:30 p.m. to donate blood to the humanitarian organization. Free pizza, snacks, and drinks were offered after the drawing. Seniors Joshua Ngyuen and Anika Kologi, co-presidents of the Jefferson Red Cross club,, reached out to Red Cross and helped plan the event. 
"The blood drive is once a year, and it's when the American Red Cross has a team come to Jefferson and basically set up for blood donations," Nguyen said. "The collected blood will be used for military aid or wherever it's needed. [My work in organizing the event included] talking to different administrators like Mr. McCormick and organizing what time and where the Red Cross blood team should come."
Before giving blood, students had to be evaluated for health factors such as iron levels and overall blood volume. The actual blood drawing is a quick process: a sterile needle is inserted in the inner elbow region and removed within a few seconds. 
"I've wanted to [donate blood] ever since I was eligible at 16 but I traveled [outside the country] last year so I wasn't able to," senior Emaya Anand said. "I've worked with Red Cross before; it's a good cause and fairly simple, and it was really cool to actually kind of be part of the patient process." 
Anand was one of over 40 students to make appointments and donate blood. 
"There was a link where people could go on the Red Cross website and sign up," Kologi said. "We posted the link and flyers in all the classes, and we also take walk-ins the day of."
The Jefferson Red Cross club hosts this blood drive every year not only to collect blood donations but also to spread awareness for blood shortages. 
"The National Red Cross helps people in America but also people all over the world with disaster relief and with blood drives," Kologi said. "I think blood drives are really important because knowledge of this issue is very low especially for people in this area.  When you walk into a hospital, and you're hurt and you get blood, you don't really have to think about the process. Someone sat there and donated that blood and that's why your life continues."