Seniors pass the lacrosse stick on
On a warm Friday afternoon, the varsity Jefferson girls lacrosse team stand around the track blowing up balloons that spell "SENIORS" and using chalk to celebrate the graduating players on the gravel. May 3 marked senior night for the team as they dressed up for pictures and their family and friends came to support them during their game against Wakefield.
"Senior night is our chance to celebrate the seniors before they go off to college," sophomore Zoe Winston said. "[The team and I] make posters for each of them with their names and pictures of them. And we have little gift baskets that we give them, as well as compliment jars that we fill with notes."
After the JV game, the seniors were scheduled to receive their gifts and walk down the football field with their family members in arm. These gifts were tailored to each unique senior and included a surprise to take the place of superlatives. The JV and varsity members who were not seniors stood to make an aisle for them to walk through, raising their lacrosse sticks and clapping as each senior's name, college, and message they had written were read out loud. At the end of their walk, principal Ann Bonitatibus and coaches Erin Keenan and Maddie Ray congratulated the players.
"I started playing lacrosse mainly to make some friends freshman year and to get in shape," senior Mishka Philizaire said. "I can forget about everything else that's happening in my personal life and school and just focus on the game and my teammates."
Many of the players were looking forward to the celebration and game, seeing it as a culmination of all their hard work and memories over the years.
"I was really excited because I'd been waiting four years for [senior night] since [lacrosse] is my main sport," senior Shambhavi Ramaswamy said. "The senior pictures in our dresses, the senior basket gifts, and walking through the sticks when they called our names and announcing where we're going to college was all so much fun. I was also in disbelief since this time last year I was like, 'Woah it's a year away,' but now the day was finally here and it was very bittersweet."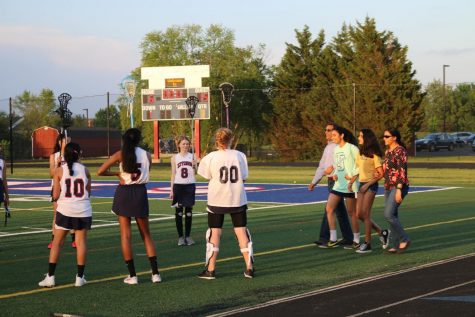 The night concluded in a win with Jefferson defeating Wakefield 13-3 as the team's work and dedication paying off. Jefferson had a quick lead on the opposing team with Wakefield only scoring in the second half. The team's offense was especially pumped up on the special day and the transitions from defense to offense went smoothly. Ramaswamy was excited that she got to score in front of all her friends and family, bringing the day to a memorable end and making it one of the highlights of her high school career. As the day was meant to be a special occasion for the players who had been on the team for years, the night was full of reflective moments.
"Walking down with my parents, hugging my coaches, and getting my gift from the underclassmen was honestly kind of emotional for me because I feel very close to the team, especially the other seniors," said Philizaire. "Lacrosse has been such a big part of my life for the past four years. All the practices and car rides and jam sessions made me grow so much closer to the team and make it that much harder to leave them."