Top 9 of 2019: Fashion trends
1. Graphic tees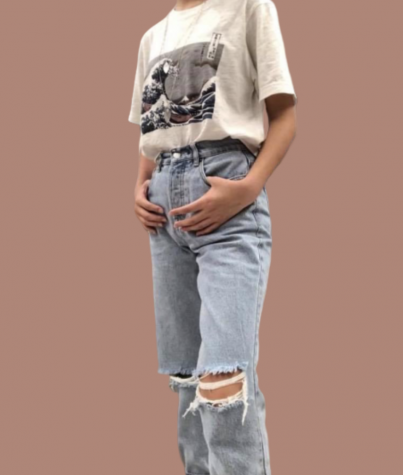 Step inside any school, mall, or place of social gathering in 2019 and you're bound to see more than a couple teens sporting eye-catching graphic tees. 2019 has seen a surge in awareness of the harmful impact of fast fashion culture–thrifting became many young adults' solution to alleviate this while staying fashionable. Secondhand shopping is a gold mine for unique graphic t-shirts, and in 2019's environmentally and budget aware culture, the popularity of thrifting served as a contributor to the wild prevalence of graphic tees. The versatility of graphic tees has also made them a staple in 2019 fashion–they're comfortable and fashionable worn oversized or cropped. Popular retailers such as Urban Outfitters and Brandy Melville have taken up on this vintage-inspired trend, further boosting their popularity.
2. Scrunchies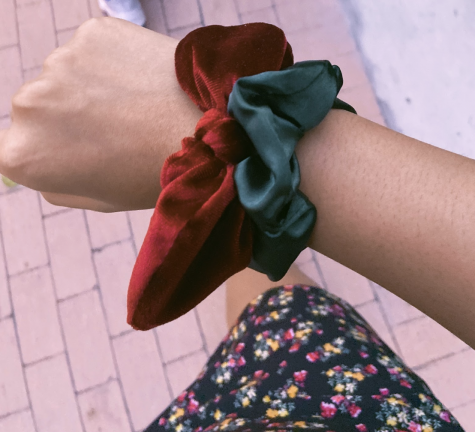 Found on almost every girl's wrist, scrunchies have made their comeback. Although invented by Phillips E. Meyers in 1963, this hair accessory was patented by Ronny Revson in 1987, calling it a "scunci" after her pet dog. An elastic band surrounded by airy material creating a ruffle-like effect when twisted onto one's pony-tail, this colorful look ties right into the fun fashion style of the 90's. This hair tie was later renamed as a "scrunchie" in respect to the way it scrunches up when used. Now a popular staple in the Lara Jean look and the "VSCO girl" appeal, scrunchies can be found in a variety of colors, patterns, and even material, including cotton and velvet.
3. Dr. Martens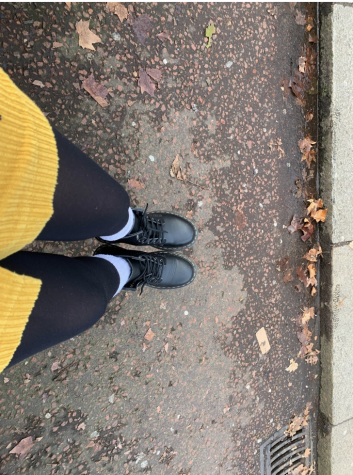 With their vintage feel, Dr. Martens (DMs) really never go out of style. Once the rigid leather is broken into, they will become the most comfortable shoes you own. The most popular models include the Dr. Martens 1460 smooth leather combat boots in black and white, adorned with the classic yellow stitching. Originally created in 1940 during World War Two by german doctor Klaus Märtens to be a comfortable shoe after breaking his ankle skiing. He sold the shoe to British company Griggs. Although most of the sale revenue was made up by 40-year-old women for outdoor work, Pete Townshend sparked the transition of DMs being used for fashion rather than work. An iconic fashion statement of the 90's, this shoe has been brought back into style by revivalist Gigi Hadid; these boots can be paired with anything from pants to skirts to dresses.
4. Plaid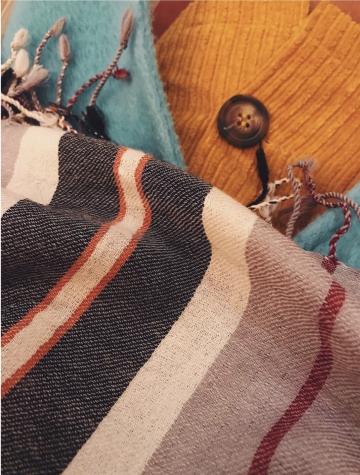 The popular plaid pattern can be found on an assortment of clothing from flannels to skirts and pants to scarves. This Clueless vibe pattern's origin lies with tartan, the typical colors and patterns used to decorate Scottish clothing. Once this design became popular in Britain and America, these two countries soon replaced tartan with plaid; tartan is a type of plaid with a symbolic meaning to the Scottish. Strutted by the models at the 2019 Paris Fashion Week, plaid clothing has been reintroduced into fashion culture.
5. Platform sneakers: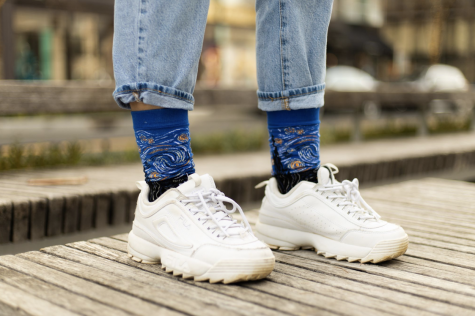 A mix of nostalgia, comfort, and style, platform sneakers are a lifestyle. The chunky heel serves to elevate one's style, often worn with dresses, jeans, and skirts. Though the most classic color is white, as it can be worn with almost any color, these shoes are often bought in many different colors or patterns from many different brands. The brands range from high-end stores such as gucci and prada to vans, adidas, and converse. According to PR Newswire, the sneaker industry was worth 58 million dollars in 2018 and is projected to grow at a compound annual growth rate of 7% from 2019 to 2024.
6. Mom Jeans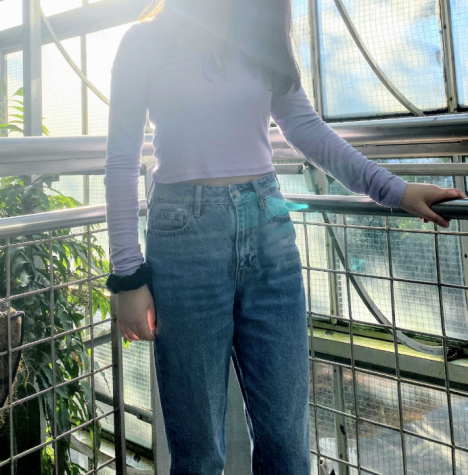 Characterized by its high-waisted, baggy shape, the iconic "mom jean" has made a comeback from the 90s. Mom jeans first came into fashion in the late 1980s, considered normal jeans at the time. They weren't dubbed "mom jeans" until the early 2000s when they fell out of popularity, deemed fit for only middle-aged women to wear. The late 2010s saw a rapid increase in their popularity–celebrities such as Gigi Hadid and Kylie Jenner have been spotted sporting the look. Mom jeans' relaxed fit makes them easy to throw on for comfortable everyday wear, and can be paired with a tighter-fitting top to make them more flattering, or with a loose sweater for a more casual look.
7. Jumpsuits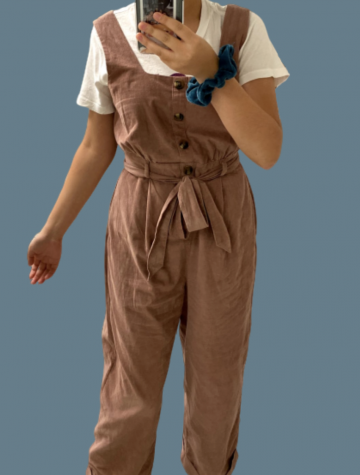 Comfortable, stylish, and versatile, jumpsuits were first created by Italian painter Ernesto Michahelles in 1919–then called "tuta", they were worn by parachutists and skydivers. In the 1920s, Coco Chanel took the basic shape of this "tuta" and turned it into a summer fashion statement. From there, the jumpsuit began a gradual increase in popularity in the fashion world as designers such as Elsa Schiaparelli and Vera Maxwell put their own spins on the garment. Jumpsuits were a staple of the 1970s disco period as well. In 2019, jumpsuits were seen worn both as casual wear and to more elegant occasions. Because they're just one piece, it is easy to create a fashionable outfit from a jumpsuit–one of the likely reasons that they've been so popular this year.
8. Sherpa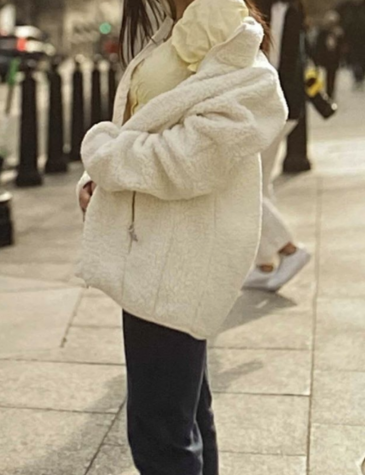 Resembling teddy bear fur or sheep's wool, sherpa jackets have been everywhere in the 2019 fall/winter season. This material originated from the ethnic group–called Sherpa people–that inhabit the Himalayas mountains regions. Originally made for survival in the cold mountainous regions, sherpa is now a popular material used in garments such as jackets, hoodies, and even scarves. Adding texture and comfort to any outfit, sherpa jackets can be paired with anything to keep warm in cold weather–a plausible reason for their wild popularity in 2019.
E-boy/E-girl fashion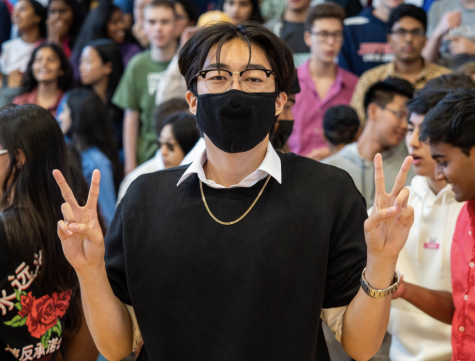 If you wear silver chains, layer black clothes, and spend your free time making short videos on the TikTok app, you're probably an e-boy or an e-girl. E-boy and e-girl fashion draws from several fashion influences: its affinity for baggy clothing is an influence of 2000s skater fashion, its masks and makeup can trace their roots back to South Korean streetwear, and its black tones and heavy silver accessorization are a mark of late 90s emo culture. E-boy/e-girl fashion primarily gained popularity through TikTok, a short video streaming app–a prime example of how digital culture can shape the fashion world.