Student Government Association and Quizbowl club host third annual Jefferson Trivia Night
In the cafeteria of Jefferson on a Friday afternoon, students and teachers gathered to test their trivia knowledge at the third annual Jefferson Trivia Night. The Student Government Association (SGA) worked in partnership with the Quizbowl club to host this event on March 22, after delays to reschedule due to snow day cancellations.
"Trivia night took a lot of planning since we had to coordinate with Quizbowl and move the date around multiple times because of various conflicts,"  junior Mia Yang, SGA treasurer, said. "Trivia night's main purpose is a night of fun and testing your own knowledge. People should go because they can relieve stress with their friends and compete with others for fun prizes. I see it becoming a tradition at TJ."
The idea for this event was first brought up by current junior and Quizbowl PR officer William Wang. A passionate member of his middle school Quizbowl team, Wang hoped to share his joy for trivia and friendly competitions with others.
"I started Quizbowl in seventh grade," Wang said. "I've always been interested in military history and through Quizbowl, I was able to find a group of people who are interested in pursuing the same sort of things that I like to read about."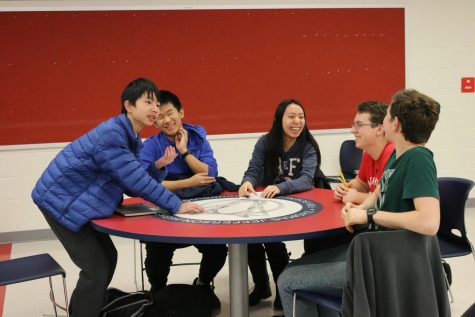 Junior Sohom Paul, the secretary of Quizbowl at Jefferson, felt a similar connection to the club. While discussing the motivation behind starting trivia night, both Wang and Paul emphasized the importance of allowing all students to find an interest in trivia.
"We wanted to find a way to bridge our love of trivia and quizzes to the rest of [Jefferson students]," Paul said. "And we know it can be done; for example, Jeopardy viewership is insanely high, and everybody likes showing off what they know. So we wanted to share all the fun we have playing Quizbowl. To do this, we partnered up with SGA to host our first three trivia nights."
They felt that the best way to engage all students was through the questions; as the main question writer, Wang tried to include topics that he felt others could enjoy.
"We know a lot of people at TJ would not be the type of people who would like to answer obscure questions about history," Wang said. "So we like to write our questions such that they promote discussion, more so than just physically knowing facts. We try to relate it [to students] and [make the questions] something you can talk to your friends about."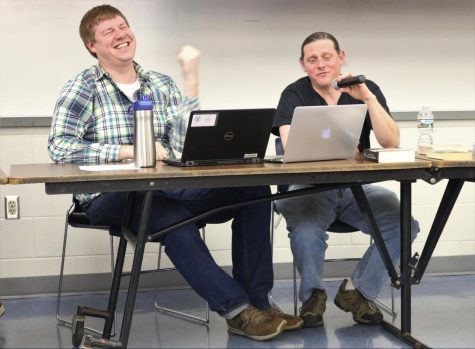 To make trivia night even more engaging, Quizbowl and SGA requested teachers Isaac Carey and Jonathan Osborne to emcee the event.
"[Quizbowl and SGA] came to us- myself and Dr. Osborne- and said, 'You guys can draw a crowd, between yelling and being sarcastic.' We were flattered that they asked us." Carey said.
The combination of interesting questions and hilarious emcees drew a large crowd, including people from a variety of schools and grades.
"We ended up bringing in people from outside of school. It was a big event, so they brought some middle schoolers up, some people from outside of TJ, and there was also a group of teachers," Carey said. "It was just fun for everybody so we were happy to be a part of it."
Although this year was the third time trivia night was hosted, the event did not fail to maintain the same participation and energy as previous years.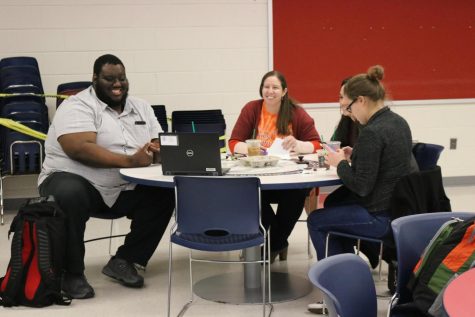 "We thought it might get a little stale with the same two emcees every time, but the questions were different, we tried to change things up, and just had fun with it," Carey said. "So, people enjoyed it, and we're happy to keep doing it."  
Trivia night was and will continue to be an opportunity for people of all ages to share and explore the excitement of trivia competitions.
"There's so much interesting information out there and so many interesting facts [to discover]," Paul said. "Sometimes the best thing to do is just let people enjoy the process of learning and getting together with other people."